HIV: a biopsychosocial context
Lawrence, Sacha (2011). HIV: a biopsychosocial context. (Unpublished Doctoral thesis, City University London)
Abstract
"It seems, in fact, as though the second half of a man's life is made up of nothing, but the habits he has accumulated during the first half."
Fyodor Dostoevsky
"Personality is only ripe when a man has made the truth his own."
Soren Kierkegaard
This research has attempted to get an insight into the phenomenon of growing older with HIV. It attends the experience of the first aging HIV cohort and tries to understand what it means for the participants to grow older with this particular condition. The study was conducted using semi-structured interviews and data was analysed using Interpretative Phenomenological Analysis (IPA). The participants were seven gay men and heterosexual woman age between 43 and 70 years of age.
They were united by a history of living with HIV from some six to twenty-eight years in duration. Four superordinate themes emerged from the interview data. All the participants recognised the fact that they belonged to the first wave of long-term HIV survivors and their experience with growing older was collectively linked to anxieties
of an unknown future. Participants reported stigma as an ongoing experience of living with HIV and were concerned that this stigma seemingly increased with age. Individual identities of the participants were affected by stigma and trauma of initial diagnosis. With increasing age these identities have a tendency to evoke a sense of 'not belonging'. It seemed that participants were feeling difficulty with placing themselves contextually into wider society.
The research unveils a various number of coping strategies of the participants, which includes split, knowledge, fantasy and spirituality. These were designed to increase a sense of internal Control and stabilise perceived disempowerment. In many cases, they were aiming to facilitate an escape from the harsh realities of HIV treatment. Although these strategies were initiated by the shock of the diagnosis, they haven't seemed to have become redundant over the 13 years. To the contrary, participants seemed to be employing more coping strategies with increasing age.
There is a link between the experience of the Past and Present and expectations of the Future. This has been elucidated in a separate chapter by using one generic account which seems to sum up the eight individual client stories. It is further argued that this study provides an insight into the lived experience of these individuals and can therefore be useful for advancing a therapeutic, counselling knowledge when working with this particular group.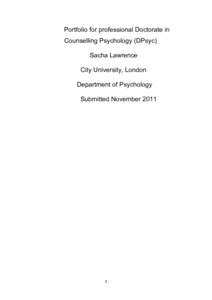 Preview
PDF


Download (12MB) | Preview
Export
Downloads
Downloads per month over past year
Altmetric

Altmetric
CORE (COnnecting REpositories)

CORE (COnnecting REpositories)
Actions (login required)

Actions (login required)