Inner‐city regeneration and the politics of resistance in Istanbul: a comparative analysis of Sulukule and Tarlabaşi
Unsal, Ozlem (2013). Inner‐city regeneration and the politics of resistance in Istanbul: a comparative analysis of Sulukule and Tarlabaşi. (Unpublished Doctoral thesis, City University London)
Abstract
Territories of neoliberal urbanization have expanded as local and central governments around the world have increasingly approached and utilized urban land as a rent-­‐generating tool that can as well reproduce the workings of advanced capitalism in full effect. It has thus been inevitable to see the expansion of the territories of urban oppositional movements in direct proportion to the globalization of neoliberal urbanism. Currently, civil, supranational and grassroots organizations are actively raising critical questions with respect to the diminishing chances of citizens to access affordable housing, public spaces, natural reserves, urban resources and services, participatory decision-­‐making mechanisms at the level of local governance etc.
Departing from here, what is being witnessed is the reintroduction of debates on the 'rights to the city' as coined by Henri Lefebvre (1968) and further tackled by David Harvey (2008) to the agenda of contentious urban politics. However, although there is growing literature on the skilful battles of oppositional movements against the forces of capital in various cities of the world, challenges encountered by movements, or the fragilities and vulnerabilities they might experience remain relatively understudied. This poses a matter of concern regarding that it can only be through the acknowledgement and transfer of knowledge emanating from battles against such challenges and vulnerabilities that learning processes can be enhanced and more sustainable movements can be built for the future.
Istanbul's experience is not divorced from any of these developments and thus falls into the coverage of these territories of neoliberal globalization and urban contestation along the given lines. State-­‐led urban transformation projects targeting informal housing zones, inner-­‐city poverty areas, coastlines, large tracts of state owned, and natural and historic reserves, and oppositional views raised against these novel expressions of urban development by diverse civil initiatives can all be interpreted as narratives that reveal the contingency of Istanbul within the given territories. Yet, just as similar to the international context, the Turkish experience has not so far tackled the question of challenges to movement building in the face of such immense pressures as much as needed.
The cases of Sulukule and Tarlabaşı, however, are highly revealing of the fact that it is incredibly difficult for socio-­‐economically disadvantaged communities to sustain their mode of mobilized resistance against forces of urban transformation since the given forces instigate imminent divides within communities based on the will to access certain securities and gains. That is, although collective resistance and opposition to urban transformation may emanate from poverty zones, a tendency to settle for material securities and gains may also emerge depending on the individually defined capacities of residents as the fear of loss in the battle against transformation climbs. Private ownership and its impact on grassroots mobilization deserves particular attention within the given set of constellations.

Preview
Text (Volume 1) - Accepted Version


Download (6MB) | Preview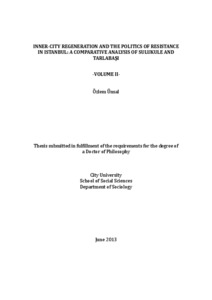 Preview
Text (Volume 2) - Accepted Version


Download (10MB) | Preview
Export
Downloads
Downloads per month over past year
Altmetric

Altmetric
CORE (COnnecting REpositories)

CORE (COnnecting REpositories)
Actions (login required)

Actions (login required)