Balancing empathic and questioning hermeneutics in therapy: client expectations and practitioner responses
Lewis, Paul (2015). Balancing empathic and questioning hermeneutics in therapy: client expectations and practitioner responses. (Unpublished Doctoral thesis, City University London)
Abstract
This study aims to understand how clients' expectations of therapy are experienced during the therapeutic process. It aims to explore the kinds of expectations clients bring as well as what happens to these and because of them, but above all the aim is to understand how this feels for clients and what sense they make of it. Much of the existing literature consists of questionnaire-based research, asking clients to choose between quantifiable options identifying types of expectations and how these correlate with types of outcome. However, anecdotal evidence from clinical practice suggests that clients may arrive with a very vague notion, at best, of what they are signing up for. This can mean negligible knowledge of elements central to therapy such as what the process involves, what kind of relationship to expect with the therapist or what will be expected of the client him or herself.
If clients do arrive with a lack of information, together with (sometimes intense) need, it is felt that there is a clear responsibility on the therapist to respond to this. One way therapists can do so is by taking the time to ask about expectations, including those to do with process and relationship as well as goals. They can listen to clients'responses and on that basis, it seems reasonable, they can explain and negotiate a suitable, agreed approach at the beginning of therapy. But how often therapists prioritise such concerns when faced with other priorities (including the need for assessment and formulation, time constraints, earning a living, logistics, contracting and a client's immediate emotional needs) is an important question. It was the belief that client expectations, though crucial, may sometimes be neglected that led to this research.
Importantly, lack of clarity in clients' pre-therapy expectations can be replaced by post-hoc certainty about what they would have wanted had they known more. For the current study this raised questions about how best to investigate expectancy. Ask clients before they start and they may say something akin to "I don't know"; ask them afterwards and they may be in a position to draw on retrospective understanding not available to them earlier. Asking beforehand also risks contaminating or influencing the very subject being explored – as well as the therapy itself. For this reason, while it may seem perverse to ask about client expectations after therapy, hindsight is seen as providing a valuable route to understanding how clients experience their assumptions, predictions, hopes, fears and guesses – their expectations overall.
This is not to argue that expectations are not there before therapy begins. Some may arise during the process but others may be present beforehand. Others still may have been present earlier but only become clear when illuminated by the experience of therapy. This growth in clarity can be central to progress in therapy but can also undermine it and lead to dropout where expectations are not fulfilled. In personcentred terms, expectations can be seen as the first step towards expression of the self-actualising tendency (Rogers, 2004), the most basic starting point of agency. Awareness of expectations can make it possible to work with this force and achieve transformation in therapy. Neglecting expectations can be tantamount to opposing the same drive, thwarting progress and potentially leading to dropout from therapy.
Due to the sometimes elusive and always deeply subjective nature of expectations, clients are asked here to give accounts of their experience in their own words. This means that qualitative methods are seen as appropriate, in particular Interpretative Phenomenological Analysis because this maximises access to the client's subjective sense while balancing this with a capacity to stand back and attempt to bring objectivity to bear as well. Better recognition and understanding of these experiences are likely to help therapists empower their clients and facilitate commitment,engagement, agency and other goals in therapy, as well as improve the overall outcome.
In these ways understanding how clients experience their expectations of therapy during therapy is centrally relevant to counselling psychology and its philosophical bases in phenomenology, humanism and existentialism. In particular it is relevant to the value counselling psychology places on the client's subjective perspective and on the necessity of engaging with this, as well as the core priority it places on understanding and nurturing the therapeutic relationship (Woolfe, 2012).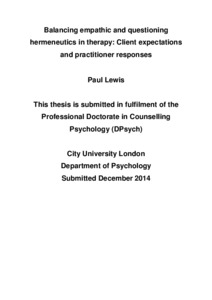 Preview
Text - Accepted Version


Download (24MB) | Preview
Export
Downloads
Downloads per month over past year
Altmetric

Altmetric
CORE (COnnecting REpositories)

CORE (COnnecting REpositories)
Actions (login required)

Actions (login required)