The parenting children course study: a quantitative and qualitative evaluation of a church based parenting intervention in the community
Gardner, Eli (2015). The parenting children course study: a quantitative and qualitative evaluation of a church based parenting intervention in the community. (Unpublished Doctoral thesis, City University London)
Abstract
Introduction. Evidence based parenting programmes have been shown to improve parenting competence and reduce child behaviour problems. More rigorous evaluations of such programmes are needed. This study provides such an evaluation of The Parenting Children Course run by Holy Trinity Brompton (HTB) church in London. The course runs Live, on DVD and in inner city settings with small groups. Quantitative methods were used to evaluate the first two versions and qualitative methods for the latter.
Method. 84 parents participated in the Live course and 141 in the DVD courses (n=225). Five parents were interviewed from the inner city courses. Live and DVD formats were evaluated for Parental disciplinary skills using the APQ (The Short Alabama Parenting Questionnaire; Elgar, Waschbusch, Dadds & Sigvaldason, 2007); Self-efficacy using the TOPSE (Tool Of Parental Self Efficacy; Kendall & Bloomfield, 2005); Child behaviour, using the ECBI (Eyberg Child Behaviour Inventor; Eyberg, 1999); General family functioning, using the General Functioning Scale of the FAD (McMaster Family Assessment Device; Epstein, Baldwin & Bishop, 1983). The impact of changing leaders for the Live course and duration of the DVD course from five to ten weeks was also addressed. The study used 2x2 and 2x3 mixed factor ANOVAs to examine changes in parental scores between the start and end of the course and 3 months later. Semi-structured interviewing and Thematic analysis were used for the inner city version.
Results. Parents improved in confidence, decreased negative parenting skills, reported better child behaviour and family functioning. Positive parenting skills were not impacted. The Live and DVD versions were equally effective. Neither changing the leader of the Live course nor the length of the DVD course affected change. Qualitative analysis revealed the leader, environment and group support wereimportant to parents. Other important elements were viewing themselves as being able to change and increasing their understanding of themselves and their children. Strengths and limitations of the study, implications for clinical practice and directions for future research were discussed.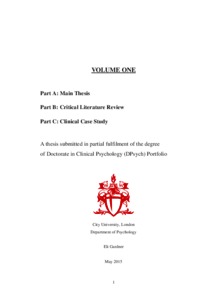 Preview
Text (Volume 1) - Accepted Version


Download (1MB) | Preview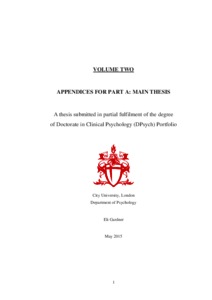 Preview
Text (Volume 2) - Accepted Version


Download (2MB) | Preview
Export
Downloads
Downloads per month over past year
Altmetric

Altmetric
CORE (COnnecting REpositories)

CORE (COnnecting REpositories)
Actions (login required)

Actions (login required)