Collective and individual rationality: Robert Malthus's heterodox theodicy
Denis, A. (2003). Collective and individual rationality: Robert Malthus's heterodox theodicy (03/09). London, UK: Department of Economics, City University London.
Abstract
This paper forms part of a research project investigating conceptions of the relationship between micro-level self-seeking agent behaviour and the desirability or otherwise of the resulting macro-level social outcomes in the history of economics. I identify two kinds of conservative rhetorical strategy, characterised by reductionism, and by holism plus an invisible hand mechanism, respectively. The present paper extends this study to Malthus, focusing on the various editions of his Essay on Population and his Summary View of the Principle of Population. Like the reductionist (Friedman, Lucas) and holistic (Smith, Hayek) proponents of laissez-faire, Malthus, too, is a defender of 'the present order of things' and an advocate of dependence on spontaneous forces. Malthus starts out within the eighteenth-century providentialist paradigm epitomised by Adam Smith and Dugald Stewart, but he later abandoned providentialism, adopting a more reductionist standpoint. Like Smith and Stewart, he takes a conservative political stance and opposes radical reform of society. But in taking up the arguments of the leading reformers of the day, Godwin and Condorcet, he is drawn by the logic of his argument to a position very far removed from Smith's stoic optimism. The weapon he deploys against the reformers is the principle of population, by means of which he is able to portray the present state of society as something natural, eternal and inevitable, something in common with the animal and vegetable kingdoms. Though a potent weapon against the utopians, at the same time the principle of population undermines providentialism In the First Essay he tries to mitigate this by presenting a theodicy to reconcile his theory with a version of providentialism, but within weeks of publication he begins work on its replacement, a secular and reductionist argument that individual self-interest can guide us to socially desirable outcomes.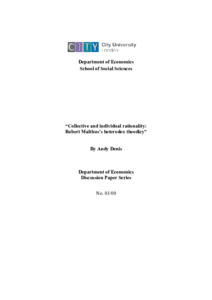 Preview
PDF


Download (262kB) | Preview
Export
Downloads
Downloads per month over past year
Altmetric

Altmetric
CORE (COnnecting REpositories)

CORE (COnnecting REpositories)
Actions (login required)

Actions (login required)