Conceptualising quality of life for older people with aphasia
Cruice, M., Hill, R., Worrall, L. & Hickson, L. (2010). Conceptualising quality of life for older people with aphasia. Aphasiology, 24(3), pp. 327-347. doi: 10.1080/02687030802565849
Abstract
Background: There is an increasing need in speech and language therapy for clinicians to provide intervention in the context of the broader life quality issues for people with aphasia. However, there is no descriptive research that is explicitly focused on quality of life (QoL) from the perspectives of older people with aphasia.
Aims: The current study explores how older people with chronic aphasia who are living in the community describe their QoL in terms of what contributes to and detracts from the quality in their current and future lives. The study is descriptive in nature, and the purpose is to conceptualize the factors that influence QoL.
Methods & Procedures: Thirty older participants (16 women, 14 men) with mild to moderate aphasic impairment took part. All participants had adequate communication skills to participate: demonstrating reliable yes/no response and moderate auditory comprehension ability. Participants were interviewed in their own homes using six brief unprompted open questions about QoL, in a structured interview. The first five questions were drawn from previous gerontological research (Farquhar, 1995), and a sixth question specifically targeting communication was added. Content analysis was used, identifying discrete units of data and then coding these into concepts and factors. Additional demographic information was collected, and participants' mood on day of interviewing was assessed using the Geriatric Depression Scale (Sheikh & Yesavage, 1986).
Outcomes & Results: Activities, verbal communication, people, and body functioning were the core factors in QoL for these participants, and they described how these factors both contributed quality in life as well as detracted from life quality. Other factors that influenced QoL included stroke, mobility, positive personal outlook, in/dependence, home and health. Whilst the findings are limited by the lack of probing of participants' responses, the study does present preliminary evidence for what is important in QoL to older people with aphasia.
Conclusions: Quality of life for older people with predominantly mild to moderate chronic aphasia who are living in the community is multifactorial in nature. Some factors lie within the remit of speech and language therapy, some lie beyond the professional role, but all are relevant for consideration in rehabilitation and community practice. Further qualitative research is implicated to better understand QoL with aphasia, using in-depth interviewing with a broader range of people with aphasia.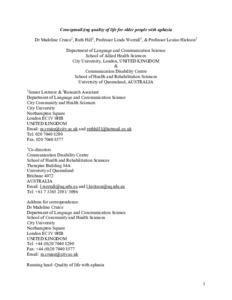 Preview
PDF


Download (274kB) | Preview
Export
Downloads
Downloads per month over past year
Altmetric

Altmetric
CORE (COnnecting REpositories)

CORE (COnnecting REpositories)
Actions (login required)

Actions (login required)