Bedeutungsvolle Orte. Eine kultursoziologische Annäherung an kreative Handlungsressourcen in Städten
Merkel, J. & Oppen, M (2012). Bedeutungsvolle Orte. Eine kultursoziologische Annäherung an kreative Handlungsressourcen in Städten. Wissenschaftszentrum Berlin für Sozialforschung.
Abstract
Die Großstadt mit ihrer heterogenen Bevölkerungszusammensetzung galt schon immer als der Ort, an dem das Neue in die Welt kommt. Im Zuge der gegenwärtigen Diskussion um die kreative Stadt sind neue Konzepte zum Zusammenhang von Stadtentwicklung und Kreativität entstanden. Gleichwohl bringen sie nach wie vor Größe und Heterogenität als materielle urbane Ressourcen in Anschlag, um die dynamische Entwicklung der Kultur- und Kreativwirtschaft in Städten zu erklären. In dem vorliegenden Beitrag wird demgegenüber argumentiert, dass eine kultursoziologisch erweiterte Untersuchung von städtischen Räumen zu differenzierteren Ergebnissen kommt: die Stadt mit ihren vielfältigen Angeboten bildet zwar den materiellen Kontext von Kreativität und Innovation; mindestens ebenso bedeutsam ist jedoch die Frage, inwieweit eine Stadt oder ein Stadtteil zugleich als bedeutungsvoller Ort für kreative Arbeit und kreatives Leben konstituiert und gewertet wird. Auf der Grundlage von Befunden aus zwei Projekten, die in Berlin und Offenbach zwischen 2007 und 2011 durchgeführt wurden, werden Diskurse und Praktiken von kreativ Tätigen rekonstruiert, die sich um Deutungen des Städtischen ranken. Dabei haben sich drei solcher geteilter Bedeutungsdimensionen herauskristallisiert, die aus Sicht der kreativ Tätigen die Attraktivität ihrer Stadt prägen, die sich als Offenheit, Beweglichkeit und Glaubwürdigkeit charakterisieren lassen. Diese Konstrukte tauchen in beiden Städten mit ähnlichen Konnotationen auf, sie stehen in engem Zusammenhang miteinander; und sie liegen quer zu den Dimensionen Größe und Heterogenität. (Autorenreferat) The relationship between creative processes and urban spaces is a rather old question in urban sociology, since the urban has long been seen as the locus for modernity and societal progress. The current creative city discourse in urban development has given rise to new urban growth theories based on creativity. Explanations focus on spatial-structural dimensions such as size and heterogeneity to emphasize urban spaces as a specific material context for creative processes. This paper, however, focuses on the social practices of creative practitioners in relation to cities, their ways of acting and talking, and how they attach meanings and ascribe qualities to particular places to constitute them as meaningful places for creative work and life. The aim of this paper is to present a cultural sociological view on creativity in the city. It is not just the urban context that breeds creativity, but culturally (re)produced perceptions of particular places that creative people value as meaningful for creative work. In a qualitative approach, discourses and practices of creative practitioners are reconstructed from the findings of two research projects undertaken between 2007 and 2011 in Berlin and Offenbach. The argument is that heterogeneity and size must be regarded as negotiable qualities rather than as fixed categories. Furthermore, three dimensions emerge from observations of these collective meaning-making processes that are important for urban spaces as places for creative work: openness, agility, and authenticity.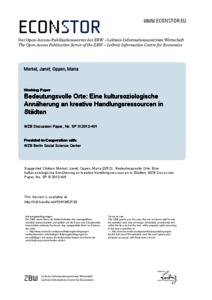 Preview
Text - Published Version


Download (424kB) | Preview
Export
Downloads
Downloads per month over past year
Altmetric

Altmetric
CORE (COnnecting REpositories)

CORE (COnnecting REpositories)
Actions (login required)

Actions (login required)