The exploration of factors relevant to enhancing mental health service provision and psychological therapies for persons of South Asian origin
Virdee, Gursharan (2015). The exploration of factors relevant to enhancing mental health service provision and psychological therapies for persons of South Asian origin. (Unpublished Doctoral thesis, City University London)
Abstract
Background: Community participation is one element of the recovery process for people with schizophrenia, however little is known about how this occurs for persons of South Asian origin.
Aims/objectives: This study explores the concept and experience of community participation and recovery amongst South Asians with schizophrenia living in Toronto, Canada.
Methods: This longitudinal study took place over the course of eight months. Seven people of South Asian origin with schizophrenia were recruited through purposeful sampling strategy and interviewed at three time points. A theoretical sampling approach was employed to recruit 19 key supports and community members who were interviewed at least once during the course of the study in an effort to capture multi-level perspectives of persons of South Asian origin. Qualitative data was analysed using social constructionist Grounded Theory informed by Charmaz.
Results: A rigorous grounded theory approach revealed five themes; i) cultivating an autonomous self within the collectivist family-based culture, ii) cultural conceptualizations of self and mental illness, iii) developing individual ethnic identity and sense of belonging in a community context, iv) points of exclusion in the community, v) points of inclusion in the community. These five themes interlinked, creating a complex dynamic between individuals, families, various communities' people belonged to and, in turn, experience of mental health. The multi-level approach to data collection provided insight into the many systems and structures that impact on this community. These experiences shaped identity, self-concept, perceptions of self as well as other racial/ethnic groups, and in turn the spaces, places and people interacted with. Spaces that provided acceptance and inclusion also facilitated the cultivation of an empowered sense of self.
Conclusions: Provider efforts to encourage community participation and recovery for persons of South Asian origin with schizophrenia should take into account the multiple and intersecting aspects of individual identity as well as those at a community level. A multi-level approach informed by social capital theory could lead to the promotion of social inclusion and integration of persons with schizophrenia. It is recommended that this strategy focus on three areas; i) advancing mental health service provision and psychological therapies, ii) education and training of health professionals and community members for example faith leaders, iii) local and national policy that addresses poverty and mandates services to address the specific needs of mental health in South Asian communities.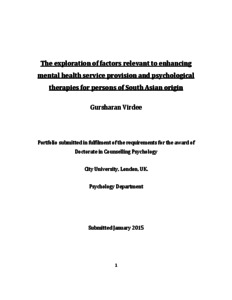 Preview
Text - Accepted Version


Download (2MB) | Preview
Export
Downloads
Downloads per month over past year
Altmetric

Altmetric
CORE (COnnecting REpositories)

CORE (COnnecting REpositories)
Actions (login required)

Actions (login required)