A century of methodological individualism part 2: Mises and Hayek
Denis, A. (2010). A century of methodological individualism part 2: Mises and Hayek (10/03). London, UK: Department of Economics, City University London.
Abstract
2009 marks the centenary of methodological individualism (MI). The phrase was first used in English in a 1909 paper by Joseph Schumpeter in the Quarterly Journal of Economics. Yet after 100 years there is considerable confusion as to what the phrase means. MI is often invoked as a fundamental description of the methodology both of neoclassical and Austrian economics, as well as of other approaches, from New Keynesianism to analytical Marxism. However, the methodologies of those to whom the theoretical practice of MI is ascribed differ profoundly on the status of the individual economic agent, some adopting a holistic and some a reductionist standpoint. The purpose of the research of which this paper is part is to uncover and evaluate some of the meanings of the phrase methodological individualism (MI). The first paper in the series, "A Century of Methodological Individualism Part 1: Schumpeter and Menger" (Denis, 2009), considers the contributions of Joseph Schumpeter, who was the first to use the term, and of Carl Menger, considered by many to be the founder of MI. The present paper considers the contributions of von Mises and Hayek. The conclusion drawn is that Mises and Hayek based their methodological stance on fundamentally different ontologies, with von Mises building on the reductionism of previous writers such as Schumpeter and Menger, and Hayek, on the contrary, adopting a holistic ontology more in line with Adam Smith, Marx and Keynes. From an ontological perspective this leaves Hayek as something of an outlier in the Austrian tradition.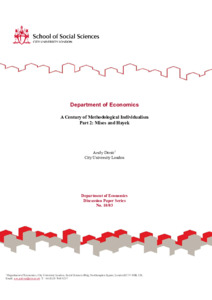 Preview
PDF


Download (447kB) | Preview
Export
Downloads
Downloads per month over past year
Altmetric

Altmetric
CORE (COnnecting REpositories)

CORE (COnnecting REpositories)
Actions (login required)

Actions (login required)