The leber congenital amaurosis protein AIPL1 and EB proteins co-localize at the photoreceptor cilium
Hidalgo-De-Quintana, J., Schwarz, N., Meschede, I. P. , Stern-Schneider, G., Powner, M. B., Morrison, E. E., Futter, C. E., Wolfrum, U., Cheetham, M. E. & Van Der Spuy, J. (2015). The leber congenital amaurosis protein AIPL1 and EB proteins co-localize at the photoreceptor cilium. PLoS ONE, 10(3), e0121440. doi: 10.1371/journal.pone.0121440
Abstract
Purpose: The aim of this study was to investigate the interaction and co-localization of novel interacting proteins with the Leber congenital amaurosis (LCA) associated protein aryl hydrocarbon receptor interacting protein-like 1 (AIPL1).
Methods: The CytoTrapXR yeast two-hybrid system was used to screen a bovine retinal cDNA library. A novel interaction between AIPL1 and members of the family of EB proteins was confirmed by directed yeast two-hybrid analysis and co-immunoprecipitation assays. The localization of AIPL1 and the EB proteins in cultured cells and in retinal cryosections was examined by immunofluorescence microscopy and cryo-immunogold electron microscopy.
Results: Yeast two-hybrid (Y2H) analysis identified the interaction between AIPL1 and the EB proteins, EB1 and EB3. EB1 and EB3 were specifically co-immunoprecipitated with AIPL1 from SK-N-SH neuroblastoma cells. In directed 1:1 Y2H analysis, the interaction of EB1 with AIPL1 harbouring the LCA-causing mutations A197P, C239R and W278X was severely compromised. Immunofluorescent confocal microscopy revealed that AIPL1 did not co-localize with endogenous EB1 at the tips of microtubules, endogenous EB1 at the microtu-bule organising centre following disruption of the microtubule network, or with endogenous β-tubulin. Moreover, AIPL1 did not localize to primary cilia in ARPE-19 cells, whereas EB1 co-localized with the centrosomal marker pericentrin at the base of primary cilia. However, both AIPL1 and the EB proteins, EB1 and EB3, co-localized with centrin-3 in the connecting cilium of photoreceptor cells. Cryo-immunogold electron microscopy confirmed the co-localization of AIPL1 and EB1 in the connecting cilia in human retinal photoreceptors.
Conclusions: AIPL1 and the EB proteins, EB1 and EB3, localize at the connecting cilia of retinal photore-ceptor cells, but do not co-localize in the cellular microtubule network or in primary cilia in non-retinal cells. These findings suggest that AIPL1 function in these cells is not related to the role of EB proteins in microtubule dynamics or primary ciliogenesis, but that their association may be related to a specific role in the specialized cilia apparatus of retinal photoreceptors.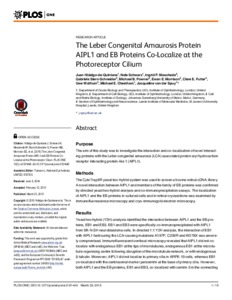 Preview
Text - Published Version
Available under License Creative Commons: Attribution International Public License 4.0.
Download (6MB) | Preview
Export
Downloads
Downloads per month over past year
Altmetric

Altmetric
CORE (COnnecting REpositories)

CORE (COnnecting REpositories)
Actions (login required)

Actions (login required)