Learning curves, taking instructions, and patient safety: using a theoretical domains framework in an interview study to investigate prescribing errors among trainee doctors
Duncan, E. M., Francis, J., Johnston, M. , Davey, P., Maxwell, S., McKay, G. A., McLay, J. S., Ross, S., Ryan, C., Webb, D. J. & Bond, C. (2012). Learning curves, taking instructions, and patient safety: using a theoretical domains framework in an interview study to investigate prescribing errors among trainee doctors. Implementation Science, 7, 86. doi: 10.1186/1748-5908-7-86
Abstract
Background
Prescribing errors are a major source of morbidity and mortality and represent a significant patient safety concern. Evidence suggests that trainee doctors are responsible for most prescribing errors. Understanding the factors that influence prescribing behavior may lead to effective interventions to reduce errors. Existing investigations of prescribing errors have been based on Human Error Theory but not on other relevant behavioral theories. The aim of this study was to apply a broad theory-based approach using the Theoretical Domains Framework (TDF) to investigate prescribing in the hospital context among a sample of trainee doctors.
Method
Semistructured interviews, based on 12 theoretical domains, were conducted with 22 trainee doctors to explore views, opinions, and experiences of prescribing and prescribing errors. Content analysis was conducted, followed by applying relevance criteria and a novel stage of critical appraisal, to identify which theoretical domains could be targeted in interventions to improve prescribing.
Results
Seven theoretical domains met the criteria of relevance: "social professional role and identity," "environmental context and resources," "social influences," "knowledge," "skills," "memory, attention, and decision making," and "behavioral regulation." From critical appraisal of the interview data, "beliefs about consequences" and "beliefs about capabilities" were also identified as potentially important domains. Interrelationships between domains were evident. Additionally, the data supported theoretical elaboration of the domain behavioral regulation.
Conclusions
In this investigation of hospital-based prescribing, participants' attributions about causes of errors were used to identify domains that could be targeted in interventions to improve prescribing. In a departure from previous TDF practice, critical appraisal was used to identify additional domains that should also be targeted, despite participants' perceptions that they were not relevant to prescribing errors. These were beliefs about consequences and beliefs about capabilities. Specifically, in the light of the documented high error rate, beliefs that prescribing errors were not likely to have consequences for patients and that trainee doctors are capable of prescribing without error should also be targeted in an intervention. This study is the first to suggest critical appraisal for domain identification and to use interview data to propose theoretical elaborations and interrelationships between domains.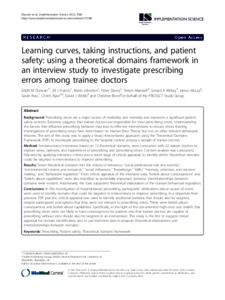 Preview
Text - Published Version
Available under License Creative Commons: Attribution 2.0.
Download (440kB) | Preview
Export
Downloads
Downloads per month over past year
Altmetric

Altmetric
CORE (COnnecting REpositories)

CORE (COnnecting REpositories)
Actions (login required)

Actions (login required)