Feminism and Childcare: A Roundtable with Sara de Benedictis, Gideon Burrows, Tracey Jensen, Jill Rutter and Victoria Showunmi
Littler, J. & Winch, A. (2016). Feminism and Childcare: A Roundtable with Sara de Benedictis, Gideon Burrows, Tracey Jensen, Jill Rutter and Victoria Showunmi. Studies in the Maternal, 8(1), 2. doi: 10.16995/sim.212
Abstract
This is an edited transcript of a roundtable event held at City University London in late 2014. The point of this seminar was to ask: what progress have we made towards men and women equally sharing the childcare? Rearranging the domestic division of labour was a crucial issue foregrounded by second-wave feminism: but how much progress has actually been made since then? Second-wave feminists and beyond have recently been vocal in replying: 'not so much.' For example, Bea Campbell has argued that equitable childcare is the key issue that feminism has not been able to tackle. Nancy Fraser has pointed to the increasing divide between rich and poor parents: those who are able to buy themselves some kind of parity, and those who cannot. Angela McRobbie has discussed how neoliberal maternal imaginaries are foreclosing the possibilities for socialised childcare. The very week our seminar took place, a survey was published by Mumsnet and the BBC Radio 4 programme Woman's Hour which found that working women do two-thirds of the chores. Its findings echoed the message of a wide number of works, including Rebecca Asher's book Shattered, where she argues that mothers often tend to remain as what she calls the 'foundation parent.'
This situation is not confined to gender norms, arrangements and expectations within the domestic realm. There are many wider factors rendering this issue even more fraught. They include, firstly, the cost of childcare in Britain and the inflexibility of working hours for many of those who can get paid employment. Secondly, the continual underpayment of childcare workers because of its status as a caring, feminised profession. Thirdly, the difficulty in finding flexible part-time work that does not discriminate against women's career progression, thus contributing to the gendered pay gap. Fourthly, the financial survival of many parents who want to spend more time looking after their children. Fifthly, the individualised nature of many childcare arrangements, often as they fit around the demanding, atomised nature of contemporary employment, which can make it difficult to share solutions locally. And lastly, these factors include the cultural expectations of possible ways to be a 'parent' or a 'family' today; as well as imaginings beyond the heteronormative nuclear family.
In short, who raises children, and how, is intimately related to the wider work of social reproduction, to the widening of neoliberal disparities of wealth and poverty, and to changes in working cultures – including overwork and unemployment, as well as inflexibility.
The aim of this seminar was, therefore, a fairly broad one: to open up a dialogue between a range of commentators from different backgrounds – including practitioners and academics from a range of disciplines – in order to discuss what are the barriers (social, psychological, cultural, economic or political) that prevent an equal sharing of the childcare.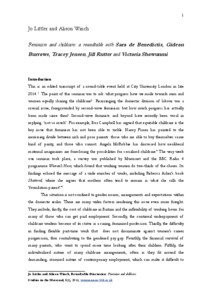 Preview
Text - Accepted Version
Available under License Creative Commons: Attribution International Public License 4.0.
Download (261kB) | Preview
Export
Downloads
Downloads per month over past year
Altmetric

Altmetric
CORE (COnnecting REpositories)

CORE (COnnecting REpositories)
Actions (login required)

Actions (login required)