Multi-stakeholder perspectives of locally commissioned enhanced optometric services
Baker, H., Harper, R. A., Edgar, D. F & Lawrenson, J. (2016). Multi-stakeholder perspectives of locally commissioned enhanced optometric services. BMJ Open, 6(10), e011934. doi: 10.1136/bmjopen-2016-011934
Abstract
OBJECTIVES: To explore views of all stakeholders (patients, optometrists, general practitioners (GPs), commissioners and ophthalmologists) regarding the operation of community-based enhanced optometric services.
DESIGN: Qualitative study using mixed methods (patient satisfaction surveys, semi-structured telephone interviews and optometrist focus groups).
SETTING: A minor eye conditions scheme (MECS) and glaucoma referral refinement scheme (GRRS) provided by accredited community optometrists.
PARTICIPANTS: 189 patients, 25 community optometrists, 4 glaucoma specialist hospital optometrists (GRRS), 5 ophthalmologists, 6 GPs (MECS), 4 commissioners.
RESULTS: Overall, 99% (GRRS) and 100% (MECS) patients were satisfied with their optometrists' examination. The vast majority rated the following as 'very good'; examination duration, optometrists' listening skills, explanations of tests and management, patient involvement in decision-making, treating the patient with care and concern. 99% of MECS patients would recommend the service. Manchester optometrists were enthusiastic about GRRS, feeling fortunate to practise in a 'pro-optometry' area. No major negatives were reported, although both schemes were limited to patients resident within certain postcode areas, and some inappropriate GP referrals occurred (MECS). Communication with hospitals was praised in GRRS but was variable, depending on hospital (MECS). Training for both schemes was valuable and appropriate but should be ongoing. MECS GPs were very supportive, reporting the scheme would reduce secondary care referral numbers, although some MECS patients were referred back to GPs for medication. Ophthalmologists (MECS and GRRS) expressed very positive views and widely acknowledged that these new care pathways would reduce unnecessary referrals and shorten patient waiting times. Commissioners felt both schemes met or exceeded expectations in terms of quality of care, allowing patients to be seen quicker and more efficiently.
CONCLUSIONS: Locally commissioned schemes can be a positive experience for all involved. With appropriate training, clear referral pathways and good communication, community optometrists can offer high-quality services that are highly acceptable to patients, health professionals and commissioners.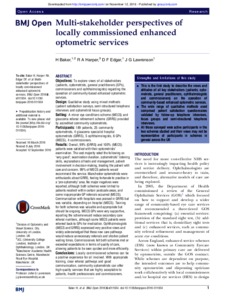 Preview
Text - Published Version
Available under License : See the attached licence file.
Download (988kB) | Preview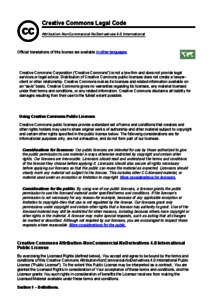 Preview
Text (Creative Commons Attribution-NonCommercial-NoDerivatives 4.0 International Licence) - Other


Download (201kB) | Preview
Export
Downloads
Downloads per month over past year
Altmetric

Altmetric
CORE (COnnecting REpositories)

CORE (COnnecting REpositories)
Actions (login required)

Actions (login required)