Outside the Voucher: Evaluating the Creative Voucher Scheme
Pratt, A.C., Matheson-Pollock, H. & Virani, T.E. (2016). Outside the Voucher: Evaluating the Creative Voucher Scheme. In: Shiach, M. & Virani, T.E. (Eds.), Cultural Policy, Innovation and the Creative Economy. (pp. 217-229). Palgrave Macmillan UK.
Abstract
This chapter seeks to elaborate on what one might have expected to be the straightforward task of delivering and evaluating Creativeworks London's (CWL) Creative Voucher scheme.1 What made the project difficult was that the notion of the "creative" voucher has not been used before; it was not a policy developed from a direct evidence base. Moreover, the Creativeworks London project was premised on the delivery of three funding streams of which the vouchers were one; indeed something approaching half of these funds were targeted to resource creative vouchers.
This chapter offers a discussion of how we implemented the creative vouchers, the product of which makes up most of this volume. It also raises the question of what and how one might evaluate vouchers; something, we argue, that does not gain from a reduction to a limited set of quantitative indicators. Indeed, our reflections on the process projected us into a far more exploratory and nuanced narrative account of the vouchers; hence the chapters of this book which represent a range of different facets and experiences of the creative voucher scheme.
Traditional evaluations of innovation and knowledge transfer are based upon simplistic mono-causal models whereby the dominant notion is that knowledge will naturally diffuse from high concentrations to low concentrations: like a gas; this of course is a social physics model. The failure to diffuse evenly, it is normally hypothesized, must be due to some "blockage" or "barrier." In keeping with mechanical analogies, much policy action is focused on "fixing the plumbing" that is the leaky knowledge pipelines. The challenge is that the logic behind knowledge transfer, let alone policies such as vouchers, are seldom explicitly stated, but rather assumed as common sense.
As we experience the transformation from mass production economies to those based on what are variously termed service economies, knowledge economies, or even cultural economies the physical movement of goods, innovation and ideas materialized as "solutions" (as "technology" has commonly been) has been replaced by weightless or virtual goods: ideas. Physicalist analogies might have been helpful in an old manufacturing economy; it is clear that they are less helpful in either dematerialized production, or the realm of ideas exclusively.
Moreover, the Creativeworks London project was explicitly funded by the Arts and Humanities Research Council (AHRC) with a view to demonstrating the role of what the arts and humanities can contribute to the processes of knowledge transfer between universities and the creative economy (see Chapter One). It is obvious that the arts and humanities favor different approaches to knowledge than that of the sciences; in particular the humanities focus on the nature of human experience and ideas—one might argue that it is the ideal type of knowledge transfer. The humanities has a rather more nuanced and relational perspective on knowledge and human experience than the sciences, focused as they often are on physical processes and outcomes. We saw it as our task to explore and reflect on creative vouchers and meanings.
Whereas the individual voucher stories provide a rich narrative of what the knowledge exchange process "looks like" and at times what it might "feel like," and what meanings it produces for those involved, this chapter attempts to examine a linked story across the voucher process. It is not seeking to generalize or summarize, rather it explores the voucher process. In this sense we resist the traditional notion of evaluation, arguing that it is necessary to understand the process before we can possibly evaluate it against objectives, personal, institutional or political.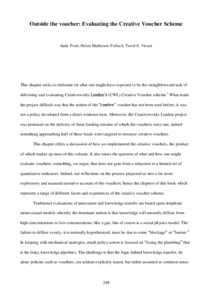 Preview
Text - Accepted Version


Download (177kB) | Preview
Export
Downloads
Downloads per month over past year
Altmetric

Altmetric
CORE (COnnecting REpositories)

CORE (COnnecting REpositories)
Actions (login required)

Actions (login required)