Distant delivery of a mindfulness-based intervention for people with Parkinson's disease: the study protocol of a randomised pilot trial
Bogosian, A., Hurt, C. S., Vasconcelos E Sa, D. , Hindle, J. V., McCracken, L. & Cubi-Molla, P. (2017). Distant delivery of a mindfulness-based intervention for people with Parkinson's disease: the study protocol of a randomised pilot trial. Pilot Feasibility Studies, 3, 4. doi: 10.1186/s40814-016-0117-4
Abstract
BACKGROUND: Psychological difficulties, especially depression and anxiety, are the most prevalent non-motor symptoms in Parkinson's disease. Pharmacological treatments for these conditions appear relatively ineffective in Parkinson's disease. Mindfulness courses are increasingly popular and recognised as effective for managing emotional states, and there is growing evidence for the effectiveness of mindfulness courses for people with long-term medical conditions. With this exploratory pilot trial, we want to assess the feasibility of the procedures and processes, including recruitment, most appropriate outcome measure(s), acceptability of type and number of measures, potential nocebo effects, and potential effectiveness and cost-effectiveness of a specially adapted distance-delivered mindfulness-based intervention in people affected by Parkinson's disease.
METHODS/DESIGN: This is a pilot two-arm randomised parallel group controlled trial. Sixty participants who meet eligibility criteria will be randomly assigned either to an 8-week mindfulness-based intervention group or a wait-list control group. The mindfulness intervention will include 1-h weekly sessions delivered by a health psychologist trained to facilitate mindfulness courses. Participants in both groups will complete standardised questionnaires assessing anxiety, depression, pain, insomnia, fatigue, and daily activities at four time points (baseline, 4, 8, and 20 weeks). The analysis will also consider potential mechanisms of change, such as acceptance, self-compassion, and tolerance of uncertainty, as well as health economic outcomes. Participants' experiences of the mindfulness interventions will be explored via in-depth interviews.
DISCUSSION: A mindfulness-based intervention for people with Parkinson's delivered remotely, through Skype group videoconferences, may represent a viable, more accessible, intervention for people with mobility limitations and people who live in rural areas. The trial will provide important information about the feasibility, potential efficacy and cost-effectiveness, and acceptability of the intervention as well as mechanisms of psychosocial adjustment. The results of this pilot trial will help us design a phase III trial to assess efficacy of an online mindfulness-based intervention in Parkinson's disease and evaluate significance.
TRIAL REGISTRATION: ClinicalTrials.gov, NCT02683330.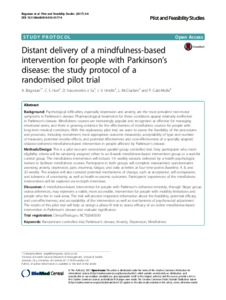 Preview
Text - Published Version
Available under License Creative Commons Attribution.
Download (709kB) | Preview
Export
Downloads
Downloads per month over past year
Altmetric

Altmetric
CORE (COnnecting REpositories)

CORE (COnnecting REpositories)
Actions (login required)

Actions (login required)