A mobile telehealth intervention for adults with insulin-requiring diabetes: early results of a mixed-methods randomized controlled trial
Baron, J., Hirani, S. P. & Newman, S. P. (2015). A mobile telehealth intervention for adults with insulin-requiring diabetes: early results of a mixed-methods randomized controlled trial. JMIR Research Protocols, 4(1), 27. doi: 10.2196/resprot.4035
Abstract
BACKGROUND: The role of technology in health care delivery has grown rapidly in the last decade. The potential of mobile telehealth (MTH) to support patient self-management is a key area of research. Providing patients with technological tools that allow for the recording and transmission of health parameters to health care professionals (HCPs) may promote behavior changes that result in improved health outcomes. Although for some conditions the evidence of the effectiveness of MTH is clear, to date the findings on the effects of MTH on diabetes management remain inconsistent.
OBJECTIVE: This study aims to evaluate an MTH intervention among insulin-requiring adults with diabetes to establish whether supplementing standard care with MTH results in improved health outcomes-glycated hemoglobin (HbA1c), blood pressure (BP), health-related quality of life (HRQoL), diabetes self-management behaviors, diabetes health care utilization, and diabetes self-efficacy and illness beliefs. An additional objective was to explore the acceptability of MTH and patients' perceptions of, and experience, using it.
METHODS: A mixed-method design consisting of a 9-month, two-arm, parallel randomized controlled trial (RCT) was used in combination with exit qualitative interviews. Quantitative data was collected at baseline, 3 months, and 9 months. Additional intervention fidelity data, such as participants' MTH transmissions and contacts with the MTH nurse during the study, were also recorded. RESULTS: Data collection for both the quantitative and qualitative components of this study has ended and data analysis is ongoing. A total of 86 participants were enrolled into the study. Out of 86 participants, 45 (52%) were randomized to the intervention group and 36 (42%) to the control group. Preliminary data on MTH training sessions and MTH usage by intervention participants are presented in this paper. We expect to publish complete study results in 2015.
CONCLUSIONS: The range of data collected in this study will allow for a comprehensive evaluation of processes and outcomes. The early results presented suggest that MTH usage decreases over time and that MTH participants would benefit from attending more than one training session.
TRIAL REGISTRATION: ClinicalTrials.gov NCT00922376; http://clinicaltrials.gov/ct2/show/NCT00922376 (Archived by WebCite at http://www.webcitation.org/6Vu4nhLI6).
| | |
| --- | --- |
| Publication Type: | Article |
| Additional Information: | © Justine Baron, Shashivadan Hirani, Stanton Newman. Originally published in JMIR Research Protocols (http://www.researchprotocols.org), 26.02.2015. This is an open-access article distributed under the terms of the Creative Commons Attribution License (http://creativecommons.org/licenses/by/2.0/), which permits unrestricted use, distribution, and reproduction in any medium, provided the original work, first published in JMIR Research Protocols, is properly cited. The complete bibliographic information, a link to the original publication on http://www.researchprotocols.org, as well as this copyright and license information must be included. |
| Publisher Keywords: | behavior change; diabetes; glycated hemoglobin (HbA1c); health-related quality of life; intervention fidelity; mixed-method design; mobile telehealth; self-management |
| Subjects: | R Medicine > RA Public aspects of medicine |
| Departments: | School of Health & Psychological Sciences > Healthcare Services Research & Management |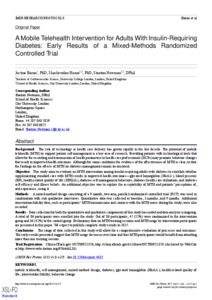 Preview
Text - Published Version
Available under License Creative Commons: Attribution 2.0.
Download (747kB) | Preview
Export
Downloads
Downloads per month over past year
Altmetric

Altmetric
CORE (COnnecting REpositories)

CORE (COnnecting REpositories)
Actions (login required)

Actions (login required)