Let's Keep this Private: The Growing Weight of Evidence Behind Improving M&A Returns
Moeller, S., King, D. & Ahmed El-Kady, A.H.A. (2016). Let's Keep this Private: The Growing Weight of Evidence Behind Improving M&A Returns. London, UK: Mergers & Acquisitions Research Centre (MARC), Cass Business School, City, University of London.
Abstract
It's different this time'… is certainly a phrase that's been used for subjects ranging from the 2000 equity market valuations to the prospects of England at the football World Cup. But unlike in mathematical proof or scientific experimentation, finance theories are not fixed in their validity. That validity can have a time limit.
And in that light, historically viewed as being negative for the acquiring company, M&A acquisitions are now seen as being more positive by many who use more recent data, despite there being those who stick fast to the earlier, albeit out-dated, research. But is this actually the case?
First, what could be the explanation for improving returns being observed for acquirers in M&A?
1. Maybe corporates are learning and executing better (not the focus of this report but we touch on a couple of potential explanations at the end)?
2. A mix effect. Corporates are doing the 'right' sort of deals
3. Has analysis improved to pick up the value creation?
We set out to investigate the premise and the possible reasons for the change, with a particular emphasis on success rates of acquisitions of unlisted companies (referred to here as Private deals) versus those of listed companies (referred to as Public deals) and the changes in success observed before and after the bubble of 2000. The basis of our report is a meta-analysis of 86 studies in the field.
The latter two explanations above are clearly valid in our view of the literature. The connection between the two explanations is Private deals -- and that is the focus of this report. We have found an increase in the prevalence of Private deals, from 66% of acquisitions by listed firms in the period 1984-1999 (inclusive) to 78% in the period 2000-2015.
Combine that fact with more analysis of private deal making and the dramatic (positive) results for Private deals that are shown in this report and in our opinion you are a long way to an explanation.
Private deals don't have to be small as they can be transformational. In what is now branded one of the top 15 tech acquisitions of all time, Google bought private company Applied Semantics for $102 million in April 2003. Within 2 years it represented 15% of Google's revenues.
And if not operationally transformational, such can be large enough to make a big difference to the balance sheet. In 2005 Google bought unlisted Skype for $2.6bn. It was sold for $8.5bn in 2011.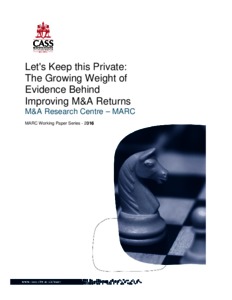 Preview
Text - Published Version


Download (271kB) | Preview
Export
Downloads
Downloads per month over past year
Altmetric

Altmetric
CORE (COnnecting REpositories)

CORE (COnnecting REpositories)
Actions (login required)

Actions (login required)