Applying health psychology theory to practice: cognitive behaviour therapy, motivational interviewing and mindfulness-based interventions for improving mental and physical health
Hemingway, B. (2017). Applying health psychology theory to practice: cognitive behaviour therapy, motivational interviewing and mindfulness-based interventions for improving mental and physical health. (Unpublished Doctoral thesis, City, University of London)
Abstract
Introduction
Sleep is a key issue in maintaining good mental and physical health, but increasingly people are suffering with insomnia and experiencing poor health-related quality of life and daytime functioning as a result. Cognitive Behaviour Therapy for Insomnia (CBT-I) has been shown to be effective. However, there has been little research conducted which compares the efficacy of different treatment modalities on health-related quality of life alongside other measures related to patients' experience of insomnia, such as daytime functioning, depression and anxiety; and treatments are not widely available or well understood. This original study therefore explored the effectiveness of three UK CBT-I treatment interventions, namely a manual-guided five-week group, a one-day workshop and an online programme on outcomes and participatory experience.
Method
The study used a mixed methods approach. This included a randomised controlled pilot study assessing insomnia severity, beliefs and attitudes about sleep, depression, anxiety, daytime functioning and health-related quality of life, sleep diary measures, use of psychotropic medication, non-prescription drugs, and alcohol use across and between interventions. The secondary aim of the study was to explore participatory experiences of patients in each intervention through the completion of a patient experience questionnaire (analysed with content analysis), and semi-structured interviews from each intervention to form a case study (analysed with interpretative phenomenological analysis).
Results
The findings revealed that CBT-I treatment resulted in significant improvements in insomnia severity, dysfunctional beliefs and attitudes about sleep, depression, anxiety, daytime functioning and health-related quality of life, mental health or insomnia related medication use, time in bed, sleep onset latency, wakefulness after sleep onset, and sleep efficiency across interventions. No significant differences between the effectiveness of the three CBT-I interventions were found, apart from more time in bed, for the online programme. Therefore, the one-day workshop and the online programme were assessed to be as effective overall on key outcomes as the five-week group. Secondary findings provided useful information on participant experience, which could provide future options and choice for individuals in determining what would be the most beneficial intervention for them based on their specific needs.
Discussion
The success of interventions in this pilot study therefore contributes to the ongoing development of accessible and effective stepped-care treatment. Findings from this research could also contribute to matching individual patient needs to treatment interventions. Through improving service delivery and funding training, savings could also be made by enabling sleep specialists to see only the most severe cases of insomnia, in addition to potential reductions of long-term use of medication in the general population. A challenge for the future is therefore to disseminate evidence-based therapies to both patients and health care professionals in order to make treatments more widely available and deployable, as well as enable better understanding of current approaches and options. Results will contribute to evidence for choice and accessibility to a greater range of interventions in future, led by feedback from participant experience.
Conclusion
The results have positive implications for improving the management of insomnia for a large number of patients, and thereby improving the well-being, mental and physical health of many people with sleep problems. As the interdependence between mental and physical health is more widely recognised, health psychology can make a valued contribution to research, training and delivery of CBT-I interventions.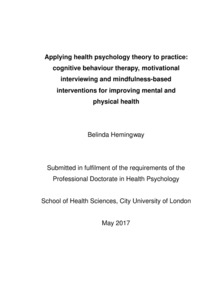 Preview
Text - Accepted Version


Download (4MB) | Preview
Export
Downloads
Downloads per month over past year
Altmetric

Altmetric
CORE (COnnecting REpositories)

CORE (COnnecting REpositories)
Actions (login required)

Actions (login required)