Developing the clinical components of a complex intervention for a glaucoma screening trial: A mixed methods study
Burr, J. M., Campbell, M. K., Campbell, S. E. , Francis, J., Hernandez, R. A., Greene, A., Hopkins, D., McCann, S. K. & Vale, L. D. (2011). Developing the clinical components of a complex intervention for a glaucoma screening trial: A mixed methods study. BMC Medical Research Methodology, 11, 54.
Abstract
Background: Glaucoma is a leading cause of avoidable blindness worldwide. Open angle glaucoma is the most common type of glaucoma. No randomised controlled trials have been conducted evaluating the effectiveness of glaucoma screening for reducing sight loss. It is unclear what the most appropriate intervention to be evaluated in any glaucoma screening trial would be. The purpose of this study was to develop the clinical components of an intervention for evaluation in a glaucoma (open angle) screening trial that would be feasible and acceptable in a
UK eye-care service.
Methods: A mixed-methods study, based on the Medical Research Council (MRC) framework for complex interventions, integrating qualitative (semi-structured interviews with 46 UK eye-care providers, policy makers and health service commissioners), and quantitative (economic modelling) methods. Interview data were synthesised and used to revise the screening interventions compared within an existing economic model.
Results: The qualitative data indicated broad based support for a glaucoma screening trial to take place in primary care, using ophthalmic trained technical assistants supported by optometry input. The precise location should be tailored to local circumstances. There was variability in opinion around the choice of screening test and target population. Integrating the interview findings with cost-effectiveness criteria reduced 189 potential components to a two test intervention including either optic nerve photography or screening mode perimetry (a measure of visual field sensitivity) with or without tonometry (a measure of intraocular pressure). It would be more cost-effective, and thus acceptable in a policy context, to target screening for open angle glaucoma to those at highest risk but for both practicality and equity arguments the optimal strategy was screening a general population cohort beginning at age forty.
Conclusions: Interventions for screening for open angle glaucoma that would be feasible from a service delivery perspective were identified. Integration within an economic modelling framework explicitly highlighted the tradeoff between cost-effectiveness, feasibility and equity. This study exemplifies the MRC recommendation to integrate qualitative and quantitative methods in developing complex interventions. The next step in the development pathway should encompass the views of service users.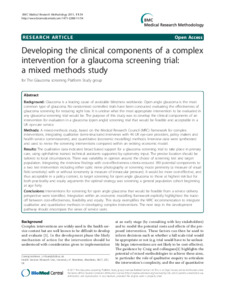 Preview
PDF


Download (256kB) | Preview
Export
Downloads
Downloads per month over past year
Altmetric

Altmetric
CORE (COnnecting REpositories)

CORE (COnnecting REpositories)
Actions (login required)

Actions (login required)