Cancer survivors' experience with telehealth: A systematic review and thematic synthesis
Cox, A., Lucas, G., Marcu, A. , Piano, M., Grosvenor, W., Mold, F., Maguire, R. & Ream, E. (2017). Cancer survivors' experience with telehealth: A systematic review and thematic synthesis. Journal of Medical Internet Research, 19(1), e11. doi: 10.2196/jmir.6575
Abstract
Background: Net survival rates of cancer are increasing worldwide, placing a strain on health service provision. There is a drive to transfer the care of cancer survivors—individuals living with and beyond cancer—to the community and encourage them to play an active role in their own care. Telehealth, the use of technology in remote exchange of data and communication between patients and health care professionals (HCPs), is an important contributor to this evolving model of care. Telehealth interventions are "complex," and understanding patient experiences of them is important in evaluating their impact. However, a wider view of patient experience is lacking as qualitative studies detailing cancer survivor engagement with telehealth are yet to be synthesized.
Objective: To systematically identify, appraise, and synthesize qualitative research evidence on the experiences of adult cancer survivors participating in telehealth interventions, to characterize the patient experience of telehealth interventions for this group.
Methods: Medline (PubMed), PsychINFO, Cumulative Index for Nursing and Allied Health Professionals (CINAHL), Embase, and Cochrane Central Register of Controlled Trials were searched on August 14, 2015, and March 8, 2016, for English-language papers published between 2006 and 2016. Inclusion criteria were as follows: adult cancer survivors aged 18 years and over, cancer diagnosis, experience of participating in a telehealth intervention (defined as remote communication or remote monitoring with an HCP delivered by telephone, Internet, or hand-held or mobile technology), and reporting qualitative data including verbatim quotes. An adapted Critical Appraisal Skill Programme (CASP) checklist for qualitative research was used to assess paper quality. The results section of each included article was coded line by line, and all papers underwent inductive analysis, involving comparison, reexamination, and grouping of codes to develop descriptive themes. Analytical themes were developed through an iterative process of reflection on, and interpretation of, the descriptive themes within and across studies.
Results: Across the 22 included papers, 3 analytical themes emerged, each with 3 descriptive subthemes: (1) influence of telehealth on the disrupted lives of cancer survivors (convenience, independence, and burden); (2) personalized care across physical distance (time, space, and the human factor); and (3) remote reassurance—a safety net of health care professional connection (active connection, passive connection, and slipping through the net). Telehealth interventions represent a convenient approach, which can potentially minimize treatment burden and disruption to cancer survivors' lives. Telehealth interventions can facilitate an experience of personalized care and reassurance for those living with and beyond cancer; however, it is important to consider individual factors when tailoring interventions to ensure engagement promotes benefit rather than burden.
Conclusions: Telehealth interventions can provide cancer survivors with independence and reassurance. Future telehealth interventions need to be developed iteratively in collaboration with a broad range of cancer survivors to maximize engagement and benefit.
| | |
| --- | --- |
| Publication Type: | Article |
| Additional Information: | ©Anna Cox, Grace Lucas, Afrodita Marcu, Marianne Piano, Wendy Grosvenor, Freda Mold, Roma Maguire, Emma Ream. Originally published in the Journal of Medical Internet Research (http://www.jmir.org), 09.01.2017. This is an open-access article distributed under the terms of the Creative Commons Attribution License (http://creativecommons.org/licenses/by/2.0/), which permits unrestricted use, distribution, and reproduction in any medium, provided the original work, first published in the Journal of Medical Internet Research, is properly cited. The complete bibliographic information, a link to the original publication on http://www.jmir.org/, as well as this copyright and license information must be included. |
| Publisher Keywords: | neoplasms; telemedicine; systematic review; survival; patient satisfaction; patient preference |
| Departments: | School of Health & Psychological Sciences > Midwifery & Radiography |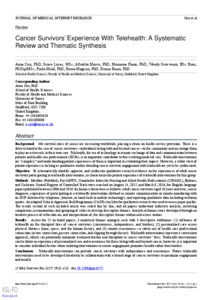 Preview
Text - Published Version
Available under License Creative Commons: Attribution 2.0.
Download (919kB) | Preview
Export
Downloads
Downloads per month over past year
Altmetric

Altmetric
CORE (COnnecting REpositories)

CORE (COnnecting REpositories)
Actions (login required)

Actions (login required)