Critical Care Cycling Study (CYCLIST) trial protocol: a randomised controlled trial of usual care plus additional in-bed cycling sessions versus usual care in the critically ill
Nickels, M., Aitken, L. M., Walsham, J. , Barnett, A. G. & McPhail, S. (2017). Critical Care Cycling Study (CYCLIST) trial protocol: a randomised controlled trial of usual care plus additional in-bed cycling sessions versus usual care in the critically ill. BMJ Open, 7(10), e017393. doi: 10.1136/bmjopen-2017-017393
Abstract
Introduction
In-bed cycling with patients with critical illness has been shown to be safe and feasible, and improves physical function outcomes at hospital discharge. The effects of early in-bed cycling on reducing the rate of skeletal muscle atrophy, and associations with physical and cognitive function are unknown.
Methods and analysis
A single-centre randomised controlled trial in a mixed medical-surgical intensive care unit (ICU) will be conducted. Adult patients (n=68) who are expected to be mechanically ventilated for more than 48 hours and remain in ICU for a further 48 hours from recruitment will be randomly allocated into either (1) a usual care group or (2) a group that receives usual care and additional in-bed cycling sessions. The primary outcome is change in rectus femoris cross-sectional area at day 10 in comparison to baseline measured by blinded assessors. Secondary outcome measures include muscle strength, incidence of ICU-acquired weakness, handgrip strength, time to achieve functional milestones (sitting out of bed, walking), Functional Status Score in ICU, ICU Mobility Scale, 6 min walk test 1week postICU discharge, incidence of delirium and quality of life (EuroQol Five Dimensions questionnaire Five Levels scale). Quality of life assessments will be conducted post-ICU admission at day 10, 3 and 6 months after acute hospital discharge. Participants in the intervention group will complete an acceptability of intervention questionnaire.
Ethics and dissemination
Appropriate ethical approval from Metro South Health Human Research Ethics Committee has been attained. Results will be published in peer-reviewed publications and presented at scientific conferences to assist planning of future multicentre randomised controlled trials (if indicated) that will test in-bed cycling as an intervention to improve the physical, cognitive and health-related quality of life outcomes of patients with critical illness.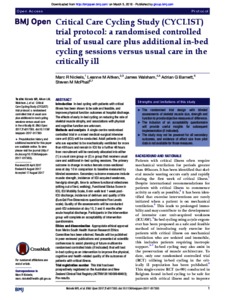 Preview
Text - Published Version
Available under License Creative Commons: Attribution International Public License 4.0.
Download (932kB) | Preview
Export
Downloads
Downloads per month over past year
Altmetric

Altmetric
CORE (COnnecting REpositories)

CORE (COnnecting REpositories)
Actions (login required)

Actions (login required)