Caring for the carers: exploring clinicians' experiences of using Trauma-Focused CBT and EMDR Therapy to treat PTSD
Wise, J. (2018). Caring for the carers: exploring clinicians' experiences of using Trauma-Focused CBT and EMDR Therapy to treat PTSD. (Unpublished Doctoral thesis, City, University of London)
Abstract
WHO (2013), NICE (2015) and UKPTS (McFetridge et al., 2017) guidelines equally recommend trauma-focused cognitive behavioural therapy (TF-CBT) and eye movement desensitization and reprocessing therapy (EMDR Therapy) as the psychological therapies of choice for post-traumatic stress disorder (PTSD) in terms of patient outcomes. However, although trauma treatments such as these are generally acknowledged to present a risk of compassion fatigue and burnout for the therapists who carry them out, (Figley, 1995) no research to date has distinguished between TF-CBT and EMDR Therapy in terms of their impact on the clinicians who deliver them.
This study employed a qualitative design to explore clinicians' own experiences of administering EMDR Therapy and TF-CBT, both during treatment sessions and cumulatively over time, when treating clients referred with PTSD. Nine counselling and clinical psychologists working in an NHS Traumatic Stress Clinic setting, qualified in both treatment approaches, and with experience of working with at least one client in each modality, were each invited to participate in a semi-structured audio-recorded interview. Transcripts were analysed using Interpretative Phenomenological Analysis.
The first of three main themes to emerge arose from the experience common to all participants that "It's not about the modalities, really". Rather, trauma work in general was experienced as having both negative and positive impacts for clinicians; these formed four subthemes, 'Compensatory rewards', 'Connection with clients', 'Cumulative costs' and 'Coping strategies'. However, a more complex and nuanced account emerged as two further themes. Many participants identified their original training in TF-CBT as "My comfort zone"; sub-themes differentiated this as either 'Containing' of both their own and their clients' anxieties, enabling clinicians to feel competent, confident and in control, or 'Constraining', where clinicians felt frustrated by the "clunky" and more confrontational aspects of this modality. The final theme acknowledged that learning to "Trust the process" of EMDR Therapy, in particular sub-themes regarding 'Intense physical communication' required 'Confidence to "trust the process"', but this in turn gave rise to the experience that 'EMDR Therapy Clears traumas TF-CBT cannot shift'.
The implications of these findings are discussed with particular relevance for how counselling psychologists can contribute towards best practice in trauma treatment which both 'cares for the carers' and offers clients a potentially more rapid and complete recovery.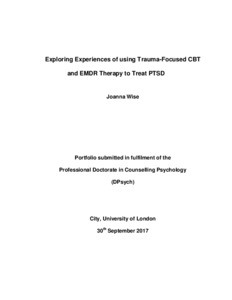 Preview
Text - Accepted Version


Download (1MB) | Preview
Export
Downloads
Downloads per month over past year
Altmetric

Altmetric
CORE (COnnecting REpositories)

CORE (COnnecting REpositories)
Actions (login required)

Actions (login required)