Food-related obesity policy, parents and class: a critical policy analysis exploring disconnect
Noonan-Gunning, S.E. (2018). Food-related obesity policy, parents and class: a critical policy analysis exploring disconnect. (Unpublished Doctoral thesis, City, University of London)
Abstract
This thesis focuses on the contemporary phenomenon of 'childhood obesity' in England. A phenomenon historically situated in the neoliberal political economy. It is characterised by intractable high prevalence, by a social gradient of inequality, and as a complex and 'wicked' policy problem. It persists despite decades of food-related obesity policy interventions. While parents' food practices are much researched, little research considers either their lived experience of food policy or their policy solutions. Understanding the working-class experience is important in the context of the social gradient. Disconnect between policy intention and the parent's lived experience that unfolds through policy process may contribute to the intractability of the problem's prevalence. The underlying importance is for child health and democracy.
In the context of food-related obesity policy, this thesis explores disconnects between the state and its governance of parents of children with obesity, including the relevance of class. It explores the implications for policy and practice, and it aims to move forward parents' involvement in food policy-making.
The critical theory paradigm draws on Kincheloe and McLaren (2003) and provides the framework for a qualitative critical policy analysis, with an epistemology of critical hermeneutics and an ontology of dialectics. The theoretical framework explores class and power processes, and uses Marx, Bourdieu, Foucault and Gramsci. The qualitative methods include document analysis and ethnographically informed semi-structured interviews. The local state provides the interface between policy actors, who include parents as policy recipients. Thirty-one interviews were carried out, and twelve working-class mothers were among the participants.
The research found multiple disconnects that would be counterproductive to achieving policy aims. These were neither superficial nor clearly demarcated, but rather they were meaningful and beneath the surface, and they interconnected and interacted. They include the material conditions of contemporary working life, unhealthful foodscapes, and governance processes around 'responsibilities' that produce subjectification and stigmatisation. Powerful processes of symbolic violence were found to reproduce the lived effects of class that contribute to the social gradient. Policy processes add to multi-layered stigmatisations. In essence, parents' food policy solutions were divergent with UK government policies. Amid democracy deficits within the local state, parents believe they should contribute to food policy-making.
The results support the view that the solutions to tackling the contemporary phenomenon of obesity in children are structural rather than individual, and that the balance of responsibilities is weighted against parents. Food policy needs to be integrated and ecological to ensure material realities support parents in their food practices. Meaningful processes of deliberation are required for parents to be involved in food policy-making.
Key words: Disconnects, food-related obesity policy, parents, childhood obesity, social gradient, class, lived experience, critical policy analysis.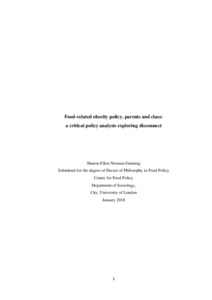 Preview
Text - Accepted Version


Download (5MB) | Preview
Export
Downloads
Downloads per month over past year
Altmetric

Altmetric
CORE (COnnecting REpositories)

CORE (COnnecting REpositories)
Actions (login required)

Actions (login required)