Autistic Traits Moderate the Impact of Reward Learning on Social Behaviour
Panasiti, M. S., Puzzo, I.

ORCID: 0000-0002-4480-5519 & Chakrabarti, B. (2015). Autistic Traits Moderate the Impact of Reward Learning on Social Behaviour. Autism Research, 9(4), pp. 471-479. doi: 10.1002/aur.1523
Abstract
A deficit in empathy has been suggested to underlie social behavioural atypicalities in autism. A parallel theoretical account proposes that reduced social motivation (i.e., low responsivity to social rewards) can account for the said atypicalities. Recent evidence suggests that autistic traits modulate the link between reward and proxy metrics related to empathy. Using an evaluative conditioning paradigm to associate high and low rewards with faces, a previous study has shown that individuals high in autistic traits show reduced spontaneous facial mimicry of faces associated with high vs. low reward. This observation raises the possibility that autistic traits modulate the magnitude of evaluative conditioning. To test this, we investigated (a) if autistic traits could modulate the ability to implicitly associate a reward value to a social stimulus (reward learning/conditioning, using the Implicit Association Task, IAT); (b) if the learned association could modulate participants' prosocial behaviour (i.e., social reciprocity, measured using the cyberball task); (c) if the strength of this modulation was influenced by autistic traits. In 43 neurotypical participants, we found that autistic traits moderated the relationship of social reward learning on prosocial behaviour but not reward learning itself. This evidence suggests that while autistic traits do not directly influence social reward learning, they modulate the relationship of social rewards with prosocial behaviour.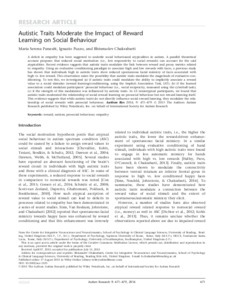 Preview
Text - Published Version
Available under License Creative Commons: Attribution International Public License 4.0.
Download (344kB) | Preview
Export
Downloads
Downloads per month over past year
Altmetric

Altmetric
CORE (COnnecting REpositories)

CORE (COnnecting REpositories)
Actions (login required)

Actions (login required)