An exploration of men's experiences of motivation to change in relation to their journey with anorexia nervosa
Tresca, B. (2018). An exploration of men's experiences of motivation to change in relation to their journey with anorexia nervosa. (Unpublished Doctoral thesis, City, University of London)
Abstract
The incidence of eating disorders (EDs) is increasing. According to the NHS digital data male diagnoses of EDs have also risen significantly and hospital admissions of adult men with EDs increased by 70 per cent between 2010 and 2016. It is reported that men often refrain from seeking help as showing vulnerability is deemed incompatible with the westernised social construction of masculinity and EDs in men frequently go unrecognised. Hence, figures may not reflect true incidence. Studies show that motivation to change (MoC) in patients with Anorexia Nervosa (AN) is key for effective treatment response and recovery. Autonomy in patients' motivation can predict long-term outcomes; it provides an internal locus of control enabling individuals to be an active agents within their struggle. Studies on MoC in EDs, like ED research more generally have mainly yielded quantitative data and focused on women.
This study focuses on the experiences of men's MoC in relation to their journeys with AN. It is anticipated that focusing on this under-explored topic will contribute to better understanding of men's experiences of AN. This also may help lift the stigma attached to males who have an experience of ED or more generally of mental health (MH) issues.
Eight English-speaking men were recruited using purposive sampling to participate in this research. Interpretative Phenomenological Analysis (IPA) was employed to conduct this study and involved semi-structured interviews as a means of collecting data. Interviews were transcribed and analysed according to the IPA guidelines yielding three master themes. Themes were interpreted using the existing literature on EDs and MoC. Use of reflexivity emerges throughout the study. The master themes generated from the data analysis were: 'sense of control', 'me and the world', and 'connecting'.
These master themes comprised of ten subthemes. The research findings invite professionals to shift existing thinking in the context of men's MoC and agency regarding engaging in behaviours to the detriment or to the benefit of their health throughout the progression of their illness.The results of this study are discussed in relation to existing literature pertaining to EDs and MoC, in particular of men's experiences of AN. The applicability of these findings for counselling psychologists' (CPs) practice is discussed. A critical consideration of the findings will then lead to recommendations for future research.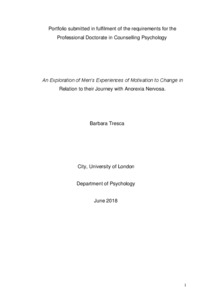 Preview
Text - Accepted Version


Download (2MB) | Preview
Export
Downloads
Downloads per month over past year
Altmetric

Altmetric
CORE (COnnecting REpositories)

CORE (COnnecting REpositories)
Actions (login required)

Actions (login required)