Establishing normative values for 18-35 years age in neuropsychological tests used with head and brain injury patients during cognitive rehabilitation: Benton Visual Retention Test and National Adult Reading Test
Thompson, S. B. N., Hawkes, L. & Chinnery, H. (2012). Establishing normative values for 18-35 years age in neuropsychological tests used with head and brain injury patients during cognitive rehabilitation: Benton Visual Retention Test and National Adult Reading Test. WebMedCntral BRAIN, 3(2), WMC002962. doi: 10.9754/journal.wmc.2012.002962
Abstract
The Benton Visual Retention Test (BVRT) is a neuropsychological assessment of visuo-spatial and visuo-memory ability. Claims of high reliability and validity are based on solitary samples representative of a wide age range. This study validated theBVRTagainst the National Adult Reading Test (NART), a highly validated and reliable test of estimated pre-morbid IQ in an age-specific group of participants (18-35 years).
Using Between-subjects factorial design, fifty-three participants (24 female, 29 male) aged 18-35 years (inclusive) were administered the NART and 3 administrations of the BVRT.
Significant positive correlations were found betweenBVRTError scores and NART Error scores for administrations B and C of theBVRTwhich is when presented stimuli are followed by a short time delay before allowing respondents to recall. Significant negative correlations were found over these administrations forBVRTCorrect scores and NART Error scores. No significant relationship was found between depression and performance on theBVRT. However, a weak, non-significant relationship was found between anxiety andBVRTperformance.
The BVRTis a well-validated and highly reliable neuropsychological test of visuo-spatial and visuo-memory abilities. Findings provide new data for the 18-35 years age group as well as providing a cautionary note on the possible influence of anxiety on performance levels in light of the frequent occurrence of anxiety post-neurological injury.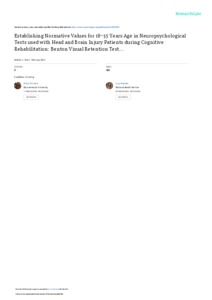 Preview
Text - Published Version
Available under License Creative Commons Attribution.
Download (293kB) | Preview
Export
Downloads
Downloads per month over past year
Altmetric

Altmetric
CORE (COnnecting REpositories)

CORE (COnnecting REpositories)
Actions (login required)

Actions (login required)