Museums without walls: The museology of Georges Henri Riviere
de la Rocha Mille, Raymond (2011). Museums without walls: The museology of Georges Henri Riviere. (Unpublished Doctoral thesis, City University London)
Abstract
This thesis explores important aspects of the debates and practices that since the First World War have both extended the meaning of museums and museology, and renovated what was seen by many as a stagnated 19th century model of museum policy and communication. For the purpose of illustrating the manifold nature of these debates this thesis examines the life and work of French museologist and innovator of modern French ethnographical practice, Georges Henri Rivière (1897 – 1985).
It draws on the conceptual distinction made in some international museum literature between museology and museums. This distinction stems from the different assumptions introduced by two long term projects of cultural development: the 18th century projects of enlightenment and the 20th century promotion of an anthropological conception of culture. The former is closely related to the European system of fine art understood as a system of promotion and popularization of the arts. The latter is part of the efforts of the human and social sciences to insert museums in the society they serve and/or to give a democratic representation to the variety of cultures existing in a society at large.
The consequence was the development, in the course of the 20th Century, of two often opposing managerial policies and cultures, one inwards looking, aiming at modernization and professionalization of internal museum functions, the other focusing on closing the relationship of museology and its natural and social environment. The first was essentially administrative and scholar-based, and has thrived with the adoption of a culture of mass consumption and multiplied its functions according to an ever-dominant division of labour. The second is proactive and externally driven, a policy and managerial culture aiming at the management of processes and resources, and at the identifications and development of the living cultures existing in a society.
In this line of thought this research explores the museology of Rivet-Rivière's Musée-Laboratoire as part of a national project of cultural development aiming at changing the relationship of French citizens to their material culture and heritage. As the museological embodiment of the myth of primitivism, Rivet-Rivière's 'structural museology' was shaped by the convergence of avant-garde movements in contemporary arts with the object-based ethnology of Marcel Mauss. It eventually led not only to Rivière's most famous concept, the Ecomusée, but also to a 'museology without walls' and to the diversification and multiplication of local museological practices by which every activity existing in a territory could be given museographical expression.
As cultural activist, Rivière was at the crossroads of major events and personalities of his time, and his museological talent was placed at the service of their concerns and expectations, particularly through his long involvement with the UNESCO-linked International Council of Museums (ICOM). Furthermore, his privileged positions in the culture of its time made him a significant witness, not just of the debate about museums, but of 20th century French cultural life.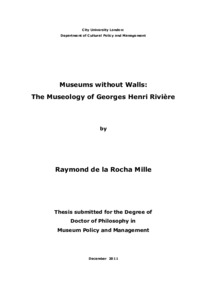 Preview
PDF


Download (5MB) | Preview
Export
Downloads
Downloads per month over past year
Altmetric

Altmetric
CORE (COnnecting REpositories)

CORE (COnnecting REpositories)
Actions (login required)

Actions (login required)