Effectiveness of brief psychological interventions for suicidal presentations: a systematic review
McCabe, R.

ORCID: 0000-0003-2041-7383, Garside, R., Backhouse, A. & Xanthopoulou, P. (2018). Effectiveness of brief psychological interventions for suicidal presentations: a systematic review. BMC Psychiatry, 18(1), 120. doi: 10.1186/s12888-018-1663-5
Abstract
Background: Every year, more than 800,000 people worldwide die by suicide. The aim of this study was to conduct a systematic review of the effectiveness of brief psychological interventions in addressing suicidal thoughts and behaviour in healthcare settings.
Methods: Following PRISMA guidelines, systematic searches were conducted in MEDLINE, CINAHL, EMBASE, the Cochrane Central Register of Controlled Trials and PsycINFO databases. A predefined search strategy was used. Two independent reviewers screened titles and abstracts followed by full texts against predefined inclusion criteria. Backward and forward citation tracking of included papers was conducted. Quality appraisal was conducted using the Cochrane Risk of Bias Tool for Randomized Controlled Trials and the CASP tool for randomised controlled trials. The small number and heterogeneity of studies did not allow for meta-analysis to be conducted. A narrative synthesis was conducted.
Results: Four controlled studies of brief psychological interventions were included, conducted in Switzerland, the U.S. and across low and middle-income countries. Three studies were conducted with adults and one with adolescents. All studies were judged to be at low risk of bias. All of the interventions were implemented with patients after attending emergency departments and involved 3412 participants. The main outcomes were suicide, suicide attempts, suicidal ideation, depression and hospitalization. The components of the interventions were early therapeutic engagement, information provision, safety planning and follow-up contact for at least 12 months. The interventions drew to, different degrees, on psychological theory and techniques. Two trials that measured suicidal ideation found no impact. Two studies showed fewer suicide attempts, one showed fewer suicides and one found an effect on depression.
Conclusions: Although the evidence base is small, brief psychological interventions appear to be effective in reducing suicide and suicide attempts. All studies to date have been conducted with people who had attended the ED but the interventions could potentially be adopted for inpatient and other outpatient settings. Early engagement and therapeutic intervention based on psychological theories of suicidal behaviour, sustained in follow-up contacts, may be particularly beneficial.
Publication Type:
Article
Additional Information:
© The Author(s). 2018Open AccessThis article is distributed under the terms of the Creative Commons Attribution 4.0International License (http://creativecommons.org/licenses/by/4.0/), which permits unrestricted use, distribution, andreproduction in any medium, provided you give appropriate credit to the original author(s) and the source, provide a link tothe Creative Commons license, and indicate if changes were made. The Creative Commons Public Domain Dedication waiver(http://creativecommons.org/publicdomain/zero/1.0/) applies to the data made available in this article, unless otherwise stated.
Publisher Keywords:
Suicide, Suicidal ideation, Systematic review, Controlled studies, Effective communication
Subjects:
B Philosophy. Psychology. Religion > BF Psychology
R Medicine > RA Public aspects of medicine > RA0421 Public health. Hygiene. Preventive Medicine
Departments:
School of Health & Psychological Sciences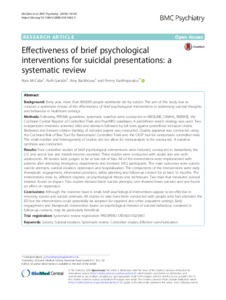 Preview
Text - Published Version
Available under License Creative Commons Attribution.
Download (728kB) | Preview
Export
Downloads
Downloads per month over past year
Altmetric

Altmetric
CORE (COnnecting REpositories)

CORE (COnnecting REpositories)
Actions (login required)

Actions (login required)