The participation of Arab members of the World Trade Organisation in the decision-making and dispute settlement systems
Ben Slimane, M. (2019). The participation of Arab members of the World Trade Organisation in the decision-making and dispute settlement systems. (Unpublished Doctoral thesis, City, University of London)
Abstract
This thesis will look at the implications of multilateral, regional and bilateral trade agreements entered into by the countries of the Middle East and North Africa. The countries included in this study are those that are members of both the Arab League and the World Trade Organisation. The twelve countries looked at have joined the WTO as relatively recent members, and are also involved in a parallel effort to increase bilateral trade agreements. The outcome of this dual approach has been mixed. On the one hand, it has been permitted by Article XXIV of the GATT either as encouragement towards the fostering of regional trade which might in turn increase overall trade according to some authors, or as a more pragmatic measure aimed at minimising obstacles to potentially global membership of the WTO. This thesis will argue that increased trade links have been shown to increase trade volume as has been encouraged by Article XXIV of the GATT. On the basis of regime theory an increase in trade would be viewed as absolute gains, and Arab members of the WTO in order to reap the maximum benefit from their membership at the organisation in the form of absolute gains should increase their participation in the organisation, in conjunction with the pursuit of regional and bilateral trade agreements to the extent these do not conflict with each other and subsequently affect the positive benefits they might otherwise have presented.
To date, only Egypt, Morocco, Qatar, Saudi Arabia, Bahrain, and the United Arab Emirates have been active participants in a WTO dispute as respondents. Qatar is the only Arab member of the WTO to have been a claimant. The reasons behind this lack of participation are multiple and range from a lack of financial means to enable any meaningful presence or active representation in the WTO, a reticence to engage in what is seen as a costly and highly specialised legal setting, a cultural reticence towards legal confrontation as a means to resolve disputes, and political and economic considerations that might make the MENA members of the WTO hesitant to become embroiled in a trade dispute that might result in undesirable consequences with important trade partners. There is further nuance, however, to add to the general observation that Arab WTO members are not actively participating in the organisation. There is evidence of some increased form of activity, essentially on part of the Gulf countries, as third parties to disputes. This pattern of behaviour could be significant if it marks a conscious approach to increasing participation in the WTO through observation prior to active participation in a relatively low risk manner. The new levels of activity could alternatively mark a policy of forming trade alliances through coalitions and supporting trade partners in their own disputes. There is also, however, more recent evidence of the participation of the Gulf countries in dispute settlement, but against one another which could be viewed in a positive light as an overall increase in participation, or in a negative light considering this might potentially annul any positive moves observed recently in terms of concerted action should this affect regional trade and consequently, the level of absolute gains achieved.
With regards to decision-making, there is evidence of Arab country membership to various working parties, some quite active and influential. It is difficult, however, to determine exact levels of participation of the Arab countries within these working parties in the absence of freely available records of meetings for all these working parties.
With regards to bilateral trade agreements, these have given rise to legal difficulties for the Arab members of the WTO as their numbers increase, leading to an already existent risk of clashing legal obligations. In addition, the lack of a coherent global approach to the negotiations of these extra regional agreements have proven problematic in light of the generalised imbalance of negotiation power between the MENA signatory and its often economically more influential trade partner. Regional trade agreements have overall lead to little increase in trade, with the exception of the Gulf Cooperation Council which despite past success appears threatened by mounting regional tensions. Whether regional trade, and nascent cooperation between Arab countries will be able to survive both within the WTO and outside the organisation is yet uncertain. What remains evident, however, is that an alternative to the previously individualistic approach to trade in the MENA region is preferable if these countries are to improve the flow of trade both with their regional and global trade partners, and that a concerted and long-sighted policy is necessary if the Arab members of the WTO are to adopt overlapping trade obligations so as to reap the benefits of WTO membership, in conjunction with regional and bilateral trade in the pursuit of absolute rather than relative gains.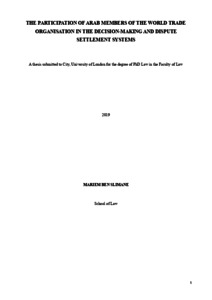 Preview
Text - Accepted Version


Download (1MB) | Preview
Export
Downloads
Downloads per month over past year
Altmetric

Altmetric
CORE (COnnecting REpositories)

CORE (COnnecting REpositories)
Actions (login required)

Actions (login required)