Therapists' understanding of the client-reported phenomenon of feeling stuck
McGoldrick, M. (2018). Therapists' understanding of the client-reported phenomenon of feeling stuck. (Unpublished Doctoral thesis, City, University of London)
Abstract
Metaphors are a common and highly evocative linguistic motif used to conceptualise experience and communicate thoughts and feelings that are otherwise difficult to express. Literature on the use of metaphors within therapy shows that they are a frequent and spontaneous part of the therapeutic dialogue but are often not interacted with or used by the therapist as a tool within their clinical practice. Feeling stuck is a lay metaphor often used to convey a period of stasis causing significant psychological and emotional distress. This study sought to explore therapists' understanding of the client-reported phenomenon of feeling stuck and how they make meaning of this term within a therapeutic context.
A qualitative design was utilised. Interviews were conducted one-to-one using a semi-structured interview protocol with five psychologists and five psychotherapists who had each used the term feeling stuck in the public arena. The data were analysed using inductive Thematic Analysis.
Three main themes were identified during the analytic phase – 'the lay metaphor'; 'defining stuckness' and 'working with stuckness'. These themes were comprised of 13 sub-themes. Therapists acknowledged the strong resonance that this term had for clients and that in many cases it was the primary reason the therapist was contacted. It was found that half of the therapists discarded the term soon into therapy as the idea of incorporating the metaphor into the therapeutic work was not considered. The remaining therapists stayed with the term but turned to favoured therapeutic modalities in order to make meaning of stuckness and to work with the client problem. However many of the participants agreed on common factors underlying stuckness thus identifying a trans-theoretical understanding of this state.
The results of this study generated new understandings of how the phrase feeling stuck is understood within a psychotherapeutic context. More generally, the study shed light on how therapists understand lay terms and metaphors used by clients and how they make sense of the way these terms are being used to attract, connect with and ultimately to try to help people. It is hoped that mental health professionals will consider these findings and become more attentive to the words that they use to engage with clients and the impact these may have on the process or outcome of therapy.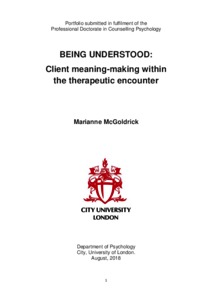 Preview
Text - Accepted Version


Download (2MB) | Preview
Export
Downloads
Downloads per month over past year
Altmetric

Altmetric
CORE (COnnecting REpositories)

CORE (COnnecting REpositories)
Actions (login required)

Actions (login required)