An analysis of disability - linked annuities
Rickayzen, B. D. (2007). An analysis of disability - linked annuities (Actuarial Research Paper No. 180). London, UK: Faculty of Actuarial Science & Insurance, City University London.
Abstract
In this paper we investigate a special type of annuity where the annuity is issued to a policyholder who is in reasonable health at the outset; however, if the policyholder subsequently becomes disabled then the annuity payments are increased to a higher level depending on the level of disability.
We analyse different types of disability-linked annuities, both single life and last survivor, in order to examine their main characteristics and assess their suitability as potential new products in the annuity and long term care (LTC) market.
Initially, we use a central set of assumptions - in particular, incorporating the central set of morbidity trend assumptions used by Rickayzen and Walsh (2002) - to calculate various quantities. These include the expected times spent in different states of disability, the probabilities of each level of annuity enhancement eventually being triggered and the single premiums required. We then use pessimistic and optimistic assumptions to replicate the expansion and compression of morbidity theories, respectively, to provide a sensitivity analysis. In addition, we consider the effect of widening the definition of disability used for the product to make it more appealing to consumers. We also examine the underwriting considerations by calculating the theoretical premium which should be charged if a moderately disabled individual were to purchase the product. Finally, we estimate the potential market in the UK for this group of products.
Our main conclusion is that when we compare the disability-linked annuity with the corresponding traditional whole life annuity, the increase in premium involved is relatively modest. The reasons for this are twofold. Firstly, the mortality and morbidity risks act in opposite directions. Therefore, an individual receiving an annuity enhancement due to severe disability will also face shorter life expectancy. Secondly, periods of disability are likely to occur towards the end of life. Therefore, the value of the annuity enhancements is relatively small since they are discounted so heavily. For similar reasons, we find that moving to optimistic or pessimistic morbidity assumptions has relatively little effect on the premiums. Finally, we note that the product is only likely to be affordable to the more affluent sector of the UK elderly population; nevertheless, we estimate that there is a considerable potential market for a product which appears to have many attractive features.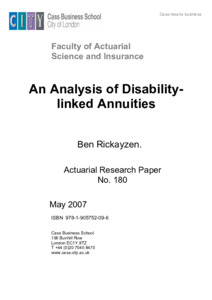 Preview
PDF


Download (257kB) | Preview
Export
Downloads
Downloads per month over past year
Altmetric

Altmetric
CORE (COnnecting REpositories)

CORE (COnnecting REpositories)
Actions (login required)

Actions (login required)