The Dominion model of transitional constitutionalism
Malagodi, M.

ORCID: 0000-0003-2904-5651, McDonagh, L.

ORCID: 0000-0003-2085-5404 & Poole, T. (2019). The Dominion model of transitional constitutionalism. International Journal of Constitutional Law, 17(4), pp. 1283-1300. doi: 10.1093/icon/moz083
Abstract
This symposium has explored New Dominion constitutionalism inductively and contextually, placing the phenomenon within a historically nested set of ideas and practices from the Old (Settler) Dominions, through the "Bridge Dominion" of Ireland, before giving detailed attention to the South Asian New Dominions of India, Pakistan, and Ceylon (now Sri Lanka). The articles collectively form a basis from which to analyze the legal configuration of New Dominion status and its legacy by exploring links between New Dominion constitutional framing and post-independence design and practice. Building on the case studies, the principal contention of this summative contribution is that New Dominion constitutionalism should be understood as the first constitutional model of note designed to manage political transitions on a global scale. A product of the twilight of the British Empire, New Dominion constitutionalism represents a model for decolonizing nations and an important antecedent to later post-Cold War transitions. Both transitional and transnational, New Dominion status offered an interim frame of government for political transitions, the fuzzy center of which derived from Westminster-style conventions of political constitutionalism, as well as a template establishing the legal basis for constituting the fully independent state.
Publication Type:
Article
Additional Information:
This is a pre-copyedited, author-produced version of an article accepted for publication in International Journal of Constitutional Law following peer review. The version of record Mara Malagodi, Luke McDonagh, Thomas Poole, The Dominion model of transitional constitutionalism, International Journal of Constitutional Law, Volume 17, Issue 4, October 2019, Pages 1283–1300, is available online at: https://dx.doi.org/10.1093/icon/moz083
Subjects:
J Political Science > JN Political institutions (Europe) > JN101 Great Britain
K Law > K Law (General)
K Law > KD England and Wales
Departments:
The City Law School > Academic Programmes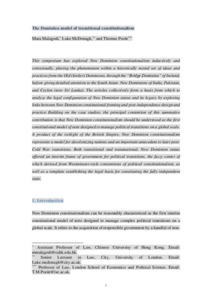 Preview
Text - Accepted Version


Download (978kB) | Preview
Export
Downloads
Downloads per month over past year
Altmetric

Altmetric
CORE (COnnecting REpositories)

CORE (COnnecting REpositories)
Actions (login required)

Actions (login required)