Review: Consumption-stage food waste reduction interventions - What works and how to design better interventions
Reynolds, C.

ORCID: 0000-0002-1073-7394, Goucher, L., Quested, T. , Bromley, S., Gillick, S., Wells, V. K., Evans, D., Koh, L., Carlsson Kanyama, A., Katzeff, C., Svenfelt, A. & Jackson, P. (2019). Review: Consumption-stage food waste reduction interventions - What works and how to design better interventions. Food Policy, 83, pp. 7-27. doi: 10.1016/j.foodpol.2019.01.009
Abstract
Food waste prevention has become an issue of international concern, with Sustainable Development Goal 12.3 aiming to halve per capita global food waste at the retail and consumer levels by 2030. However there is no review that has considered the effectiveness of interventions aimed at preventing food waste in the consumption stages of the food system. This significant gap, if filled, could help support those working to reduce food waste in the developed world, providing knowledge of what interventions are specifically effective at preventing food waste.
This paper fills this gap, identifying and summarizing food-waste prevention interventions at the consumption/consumer stage of the supply chain via a rapid review of global academic literature from 2006 to 2017.
We identify 17 applied interventions that claim to have achieved food waste reductions. Of these, 13 quantified food waste reductions. Interventions that changed the size or type of plates were shown to be effective (up to 57% food waste reduction) in hospitality environments. Changing nutritional guidelines in schools were reported to reduce vegetable waste by up to 28%, indicating that healthy diets can be part of food waste reduction strategies. Information campaigns were also shown to be effective with up to 28% food waste reduction in a small sample size intervention.
Cooking classes, fridge cameras, food sharing apps, advertising and information sharing were all reported as being effective but with little or no robust evidence provided. This is worrying as all these methods are now being proposed as approaches to reduce food waste and, except for a few studies, there is no reproducible quantified evidence to assure credibility or success. To strengthen current results, a greater number of longitudinal and larger sample size intervention studies are required. To inform future intervention studies, this paper proposes a standardised guideline, which consists of: (1) intervention design; (2) monitoring and measurement; (3) moderation and mediation; (4) reporting; (5) systemic effects.
Given the importance of food-waste reduction, the findings of this review highlight a significant evidence gap, meaning that it is difficult to make evidence-based decisions to prevent or reduce consumption-stage food waste in a cost-effective manner.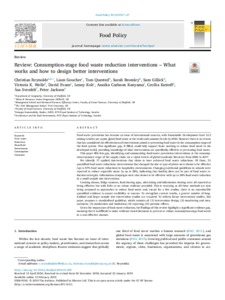 Preview
Text - Published Version
Available under License Creative Commons Attribution.
Download (2MB) | Preview
Export
Downloads
Downloads per month over past year
Altmetric

Altmetric
CORE (COnnecting REpositories)

CORE (COnnecting REpositories)
Actions (login required)

Actions (login required)