Where do women birth during a pandemic? Changing perspectives on Safe Motherhood during the COVID-19 pandemic
Rocca-Ihenacho, L.

ORCID: 0000-0002-8161-3938 & Alonso, C. (2020). Where do women birth during a pandemic? Changing perspectives on Safe Motherhood during the COVID-19 pandemic. Journal of Global Health Science, 2(e4), doi: 10.35500/jghs.2020.2.e4
Abstract
During the coronavirus disease 2019 (COVID-19) pandemic, health systems all over the world are either stressed to their maximum capacity or anticipating becoming overwhelmed. The population is advised not to attend hospital unless strictly necessary, yet this advice seems to apply to all but healthy women during childbirth.
Specialized hospital care during childbirth can be lifesaving in case of obstetric complications or for COVID-19 symptomatic women, while strong evidence suggests the appropriateness of midwifery units that are integrated into the healthcare system for eligible women. We must ask ourselves whether obstetric units are the appropriate birthing facilities for healthy women during the pandemic.
We have learned from previous crises that the needs of women and children are often badly served during disasters. The COVID-19 pandemic raises concerns over escalation of mistreatment and abuse media are already reporting on restrictions to the rights of birthing women in Europe and the US. In addition, concerns have emerged over increased risk of infection to COVID-19 among birthing women and familied by concentrating all women in obstetric units and lack of optimal care due to pressure on staff and resources. Women's rights in childbirth are being threatened by lack of care during labor, restrictions on accompaniment, unnecessary interventions including inductions, separation of mother and baby and prohibition on breastfeeding.
An effective response to the crisis depends on strong and coordinated health care systems where mothers can birth safely, and the needs of the newborn babies are met. The interpretation of what constitute safe care is a stimulus for a strong debate between those who argue for strengthening community and primary care services and those who recommend for centralization of all births in hospitals. This debate is particularly salient during this pandemic and in preparation of future pandemics.
We propose a strategic response in the face of the pandemic by expanding the use of midwifery units both alongside the obstetric unit and freestanding (in the community). Where midwifery units are absent pop-up units can be created quickly following the example of the Netherlands. This strategy in high income countries is evidence-based and also serves as a response to the surge in requests of safe childbirths pathways away from the obstetric unit by concerned women at unprecedented rates. We urge policy makers to consider replicating this model in low- and middle-income countries where hospital conditions are more precarious.
A strong collaboration between midwives, nurses, obstetricians and neonatologists and the integration of primary care and acute services could ensure safety while maximizing the rational use of resources. Immediate strategic action would ensure that women are able to access appropriate care at the appropriate time, while hospitals continue to respond to the COVID-19 crisis and obstetric units are kept for women needing specialist care.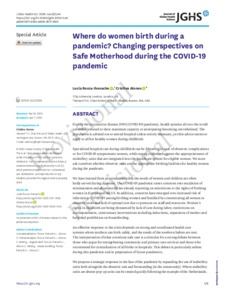 Preview
Text - Published Version
Available under License Creative Commons Attribution.
Download (1MB) | Preview
Export
Downloads
Downloads per month over past year
Altmetric

Altmetric
CORE (COnnecting REpositories)

CORE (COnnecting REpositories)
Actions (login required)

Actions (login required)