What makes people talk about antibiotics on social media? A retrospective analysis of Twitter use.
Dyar, O. J., Castro-Sanchez, E.

ORCID: 0000-0002-3351-9496 & Holmes, A. H. (2014). What makes people talk about antibiotics on social media? A retrospective analysis of Twitter use.. Journal of Antimicrobial Chemotherapy, 69(9), pp. 2568-2572. doi: 10.1093/jac/dku165
Abstract
OBJECTIVES: Social media has reshaped individual and institutional communication. The unrestricted access to spontaneous views and opinions of society can enrich the evaluation of healthcare interventions. Antimicrobial resistance has been identified as a global threat to health requiring collaboration between clinicians and healthcare users. We sought to explore events and individuals influencing the discourse about antibiotics on Twitter. METHODS: A web-based tool (www.topsy.com) was used to detect daily occurrences of the word 'antibiotic' from 24 September 2012 to 23 September 2013 in worldwide Tweets. Activity peaks (message frequency over three times that of baseline) were analysed to identify events leading to the increase. RESULTS: Of 135 billion messages posted during the study period, 243000 (0.000002%) referred to 'antibiotic'. The greatest activity increases appeared after: (i) the UK Chief Medical Officer's (CMO's) declaration of antimicrobial resistance as a national risk (January 2013 and March 2013); (ii) the release of the US CDC's report on antimicrobial resistance (September 2013); and (iii) the US FDA announcement on azithromycin safety concerns (March 2013). The CMO report in March reached an estimated worldwide audience of 20 million users in a single day. However, the frequency of antibiotic Tweets returned to basal levels within 48 h of all four peaks in activity. CONCLUSIONS: Institutional events can rapidly amplify antibiotic discussions on social media, but their short lifespan may hinder their public impact. Multipronged strategies may be required to prolong responses. Developing methods to refine social media monitoring to evaluate the impact and sustainability of societal engagement in the antimicrobial resistance agenda remains essential.
Publication Type:
Article
Additional Information:
This is an Open Access article distributed under the terms of the Creative Commons Attribution License (http://creativecommons.org/licenses/by/4.0/), which permits unrestricted reuse, distribution, and reproduction in any medium, provided the original work is properly cited.
Publisher Keywords:
antibacterial agents; Internet; Web 2.0; antibiotics; drug resistance, microbial; internet; chronic multifocal osteomyelitis; social media
Subjects:
R Medicine > RA Public aspects of medicine
T Technology
Departments:
School of Health & Psychological Sciences > Nursing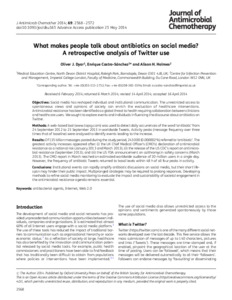 Preview
Text - Published Version
Available under License Creative Commons Attribution.
Download (375kB) | Preview
Export
Downloads
Downloads per month over past year
Altmetric

Altmetric
CORE (COnnecting REpositories)

CORE (COnnecting REpositories)
Actions (login required)

Actions (login required)