UK consensus guidelines for the delivery of unexpected news in obstetric ultrasound: The ASCKS framework
Johnson, J., Arezina, J., Tomlinson, L. , Alt, S., Arnold, J., Bailey, S., Beety, H., Bender-Atik, R., Bryant, L., Coates, J., Collinge, S., Fishburn, J., Fisher, J., Fowler, J., Glanville, T., Hallett, J., Harley-Roberts, A., Harrison, G.

ORCID: 0000-0003-2795-8190, Horwood, K., Hynes, C., Kimm, L., McGuinness, A., Potter, L., Powell, L., Ramsay, J., Shakes, P., Sicklen, R., Sims, A., Stacey, T., Sumra, A., Thomas, S., Todd, K., Torrington, J.

ORCID: 0000-0001-7781-0851, Trueman, R., Walsh, L., Watkins, K., Yaz, G. & Hardicre, N. (2020). UK consensus guidelines for the delivery of unexpected news in obstetric ultrasound: The ASCKS framework. Ultrasound, pp. 1-11. doi: 10.1177/1742271X20935911
Abstract
Background: Studies indicate there is a need to improve the delivery of unexpected news via obstetric ultrasound, but there have been few advances in this area. One factor preventing improvement has been a lack of consensus regarding the appropriate phrases and behaviours which sonographers and ultrasound practitioners should use in these situations. Aims: To develop consensus guidelines for unexpected news delivery in Early Pregnancy Unit and Fetal Anomaly Screening Programme NHS settings. Methods: A workshop was conducted to identify priorities and reach consensus on areas of contention. Contributors included interdisciplinary healthcare professionals, policy experts, representatives from third-sector organisations, lay experts and academic researchers (n = 28). Written and verbal feedback was used to draft initial guidance which was then circulated amongst the wider writing group (n = 39). Revisions were undertaken until consensus was reached. Results: Consensus guidelines were developed outlining the behaviours and phrases which should be used during scans where unexpected findings are identified. Specific recommendations included that: honest and clear communication should be prioritised, even with uncertain findings; technical terms should be used, but these should be written down together with their lay interpretations; unless expectant parents use other terminology (e.g. 'foetus'), the term 'baby' should be used as a default, even in early pregnancy; at the initial news disclosure, communication should focus on information provision. Expectant parents should not be asked to make decisions during the scan. Conclusions: These recommendations can be used to develop and improve news delivery interventions in obstetric ultrasound settings. The full guidelines can be accessed online as supplemental material and at https://doi.org/10.5518/100/24.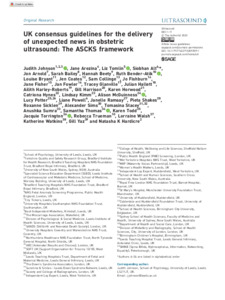 Preview
Text - Published Version
Available under License Creative Commons: Attribution International Public License 4.0.
Download (799kB) | Preview
Export
Downloads
Downloads per month over past year
Altmetric

Altmetric
CORE (COnnecting REpositories)

CORE (COnnecting REpositories)
Actions (login required)

Actions (login required)