Electronic consenting for conducting research remotely: A review of current practice and key recommendations for using e-consenting
Skelton, E., Drey, N.

ORCID: 0000-0003-0752-9049, Rutherford, M. , Ayers, S.

ORCID: 0000-0002-6153-2460 & Malamateniou, C. (2020). Electronic consenting for conducting research remotely: A review of current practice and key recommendations for using e-consenting. International Journal of Medical Informatics, 143, 104271. doi: 10.1016/j.ijmedinf.2020.104271
Abstract
BACKGROUND: Electronic approaches are becoming more widely used to obtain informed consent for research participation. Electronic consent (e-consent) provides an accessible and versatile approach to the consenting process, which can be enhanced with audio-visual and interactive features to improve participant engagement and comprehension of study procedures. Best practice guidance underpinned by ethical principles is required to ensure effective implementation of e-consent for use in research.
AIM: To identify the key considerations for successful and ethical implementation of e-consent in the recruitment of participants to research projects which are conducted remotely.
METHODS: Electronic database searches of CINAHL, Medline, Embase, DARE, HTA, PubMed, the Cochrane Library, Scopus, Web of Science, NHS Evidence, and hand-searches of reference lists were performed. Primary research studies of adult (≥ 18 years old) research participants using e-consent, published in English language, peer-reviewed journals between 2010-2020 were eligible for inclusion.
RESULTS: Of the initial 665 identified studies, 18 met the inclusion criteria: 6 cohort studies, 5 qualitative studies, 4 randomised control trials, 2 mixed-methods studies and one case-control study. Critical appraisal of included studies using Critical Appraisal Skills Program (CASP) tools suggested a low to moderate risk of bias in most studies (n = 15). Key practice recommendations for researchers using e-consent were identified around five primary themes: 1) accessibility and user-friendliness of e-consent, 2) user engagement and comprehension, 3) customisability to participant preferences and demographics, 4) data security and 5) impact on research teams.
CONCLUSION: E-consenting approaches are generally well received by participants, with most studies reporting user-friendly interfaces and sufficient participant comprehension of consenting documentation.
IMPLICATIONS FOR PRACTICE: E-consent may facilitate remotely-conducted research by offering a feasible and robust alternative to face-to-face consenting approaches, however paper-based options should still be offered, based on participant preference. Customising e-consenting platforms may improve accessibility for individuals with specific needs, and increase engagement with study information. Research teams must offer prospective participants opportunities to discuss study information in real-time.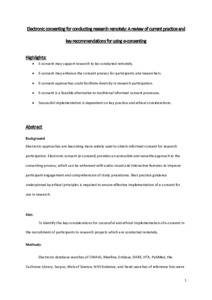 Preview
Text - Accepted Version
Available under License Creative Commons Attribution Non-commercial No Derivatives.
Download (1MB) | Preview
Export
Downloads
Downloads per month over past year
Altmetric

Altmetric
CORE (COnnecting REpositories)

CORE (COnnecting REpositories)
Actions (login required)

Actions (login required)