Interventions to Improve Health and Care of Women with Low Health Literacy: A Systematic Review
Vila-Candel, R., Martinez-Arnau, M. A., de la Camara-de las Heras, J. M. , Castro-Sanchez, E.

ORCID: 0000-0002-3351-9496 & Perez-Ros, P. (2020). Interventions to Improve Health and Care of Women with Low Health Literacy: A Systematic Review. International Journal of Environmental Research and Public Health, 17(20), 7405. doi: 10.3390/ijerph17207405
Abstract
Background: Limited or low health literacy (HL) has been associated with poor health outcomes including inadequate self-caring and preventive behaviours. A few studies have systematically summarized the effect of interventions to improve reproductive health and care in women with insufficient HL. The main objective of the study was to investigate the health care promotion interventions and examine its effectiveness on women with inadequate HL, through a systematic review of randomized controlled trials (RCT). Methods: RCTs and quasi-experimental studies that assessed HL interventions to improve reproductive health of women with low HL were included. The study protocol was registered with PROSPERO (CRD42020137059). Results: Of the 292 records initially identified, a total of 6 articles were included for review. Five different HL screening tools were used. Four different interventions were included: educational intervention, communication skills, multimedia interactive tool, and text adaptation to enhance reading comprehension. Not enough research-practice has been done into the influence of interventions on HL, and that is therefore difficult to implement evidence-based interventions.; Conclusions: Interventions aiming to benefit and improve HL should consider the complex web of intersectional determinants that end up shaping the opportunities of women to make optimal decisions about 33 their health and care, and which may require attention to much more than clinical or service delivery factors.
Publication Type:
Article
Additional Information:
© The Authors 2020. This is an open access article distributed under the Creative Commons Attribution License which permits unrestricted use, distribution, and reproduction in any medium, provided the original work is properly cited
Publisher Keywords:
health literacy; numeracy; reading ability; reading skill; pregnant women; intervention
Subjects:
H Social Sciences > HQ The family. Marriage. Woman
R Medicine
Departments:
School of Health & Psychological Sciences > Nursing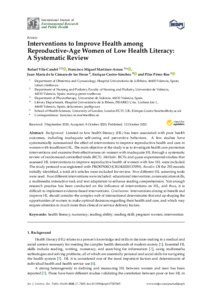 Preview
Text - Published Version
Available under License Creative Commons: Attribution International Public License 4.0.
Download (801kB) | Preview
Export
Downloads
Downloads per month over past year
Altmetric

Altmetric
CORE (COnnecting REpositories)

CORE (COnnecting REpositories)
Actions (login required)

Actions (login required)