Project 20: Midwives' insight into continuity of care models for women with social risk factors: what works, for whom, in what circumstances, and how
Rayment-Jones, H., Silverio, S. A., Harris, J. , Harden, A. & Sandall, J. (2020). Project 20: Midwives' insight into continuity of care models for women with social risk factors: what works, for whom, in what circumstances, and how. Midwifery, 84, 102654. doi: 10.1016/j.midw.2020.102654
Abstract
Introduction
Continuity of care models are known to improve clinical outcomes for women and their babies, but it is not understood how. A realist synthesis of how women with social risk factors experience UK maternity care reported mechanisms thought to improve clinical outcomes and experiences. As part of a broader programme of work to test those theories and fill gaps in the literature base we conducted focus groups with midwives working within continuity of care models of care for women with social factors that put them at a higher chance of having poor birth outcomes. These risk factors can include poverty and social isolation, asylum or refugee status, domestic abuse, mental illness, learning difficulties, and substance abuse problems.
Objective
To explore the insights of midwives working in continuity models of care for women with social risk factors in order to understand the resources they provide, and how the model of care can improve women's outcomes.
Design
Realist methodology was used to gain a deeper understanding of how women react to specific resources that the models of care offer and how these resources are thought to lead to particular outcomes for women. Twelve midwives participated, six from a continuity of care model implemented in a community setting serving an area of deprivation in London, and six from a continuity of care model for women with social risk factors, based within a large teaching hospital in London.
Findings
Three main themes were identified: 'Perceptions of the model of care, 'Tailoring the service to meet women's needs', 'Going above and beyond'. Each theme is broken down into three subthemes to reveal specific resources or mechanisms which midwives felt might have an impact on women's outcomes, and how women with different social risk factors respond to these mechanisms.
Conclusions/implications for practice
Overall the midwives in both models of care felt the service was beneficial to women and had a positive impact on their outcomes. It was thought the trusting relationships they had built with women enabled midwives to guide women through a fragmented, unfamiliar system and respond to their individual physical, emotional, and social needs, whilst ensuring follow-up of appointments and test results. Midwives felt that for these women the impact of a trusting relationship affected how much information women disclosed, allowing for enhanced, needs led, holistic care. Interesting mechanisms were identified when discussing women who had social care involvement with midwives revealing techniques they used to advocate for women and help them to regain trust in the system and demonstrate their parenting abilities. Differences in how each team provided care and its impact on women's outcomes were considered with the midwives in the community-based model reporting how their location enabled them to help women integrate into their local community and make use of specialist services. The study demonstrates the complexity of these models of care, with midwives using innovative and compassionate ways of working to meet the multifaceted needs of this population.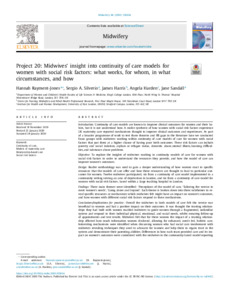 Preview
Text - Published Version
Available under License Creative Commons Attribution Non-commercial No Derivatives.
Download (555kB) | Preview
Export
Downloads
Downloads per month over past year
Altmetric

Altmetric
CORE (COnnecting REpositories)

CORE (COnnecting REpositories)
Actions (login required)

Actions (login required)