Processing of positive newborn screening results: a qualitative exploration of current practice in England
Chudleigh, J. H.

ORCID: 0000-0002-7334-8708, Chinnery, H., Holder, P. , Carling, R. S., Southern, K., Olander, E. K.

ORCID: 0000-0001-7792-9895, Moody, L., Morris, S., Ulph, F., Bryon, M. & Simpson, A. (2020). Processing of positive newborn screening results: a qualitative exploration of current practice in England. BMJ Open, 10(12), e044755. doi: 10.1136/bmjopen-2020-044755
Abstract
Objective
To explore current communication practices for positive newborn screening results from the newborn bloodspot screening (NBS) laboratory to clinicians to highlight differences, understand how the pathways are implemented in practice, identify barriers and facilitators and make recommendations for future practice and research.
Design
A qualitative exploratory design was employed using semi-structured interviews.
Setting
Thirteen NBS laboratories in England.
Participants
Seventy-one clinicians; 22 NBS laboratory staff across 13 laboratories and 49 members of relevant clinical teams were interviewed.
Results
Assurance of quality and consistency was a priority for all NBS laboratories. Findings indicated variation in approaches to communicating positive NBS results from laboratories to clinical teams. This was particularly evident for congenital hypothyroidism and was largely influenced by local arrangements, resources and the fact individual laboratories had detailed standard operating procedures for how they work. Obtaining feedback from clinical teams to the laboratory after the child had been seen could be challenging and time-consuming for those involved. Pathways for communicating carrier results for cystic fibrosis and sickle cell disease could be ambiguous and inconsistent which in turn could hamper the laboratories efforts to obtain timely feedback regarding whether or not the result had been communicated to the family. Communication pathways for positive NBS results between laboratories and clinical teams could therefore be time-consuming and resource-intensive.
Conclusion
The importance placed on ensuring positive NBS results were communicated effectively and in a timely fashion from the laboratory to the clinical team was evident from all participants. However, variation existed in terms of the processes used to report positive NBS results to clinical teams and the people involved. Variant practice identified may reflect local needs, but more often reflected local resources and a more consistent 'best practice' approach is required, not just in the UK but perhaps globally.
Trial registration number ISRCTN15330120.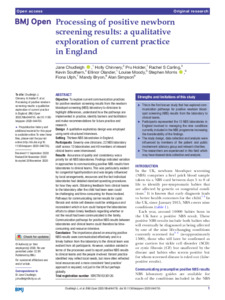 Preview
Text - Published Version
Available under License Creative Commons: Attribution International Public License 4.0.
Download (315kB) | Preview
Export
Downloads
Downloads per month over past year
Altmetric

Altmetric
CORE (COnnecting REpositories)

CORE (COnnecting REpositories)
Actions (login required)

Actions (login required)