Multilevel influences on resilient healthcare in six countries: an international comparative study protocol.
Anderson, J. E.

ORCID: 0000-0002-1452-8370, Aase, K., Bal, R. , Bourrier, M., Braithwaite, J., Nakajima, K., Wiig, S. & Guise, V. (2020). Multilevel influences on resilient healthcare in six countries: an international comparative study protocol.. BMJ Open, 10(12), doi: 10.1136/bmjopen-2020-039158
Abstract
INTRODUCTION: Resilient healthcare (RHC) is an emerging area of theory and applied research to understand how healthcare organisations cope with the dynamic, variable and demanding environments in which they operate, based on insights from complexity and systems theory. Understanding adaptive capacity has been a focus of RHC studies. Previous studies clearly show why adaptations are necessary and document the successful adaptive actions taken by clinicians. To our knowledge, however, no studies have thus far compared RHC across different teams and countries. There are gaps in the research knowledge related to the multilevel nature of resilience across healthcare systems and the team-based nature of adaptive capacity.This cross-country comparative study therefore aims to add knowledge of how resilience is enabled in diverse healthcare systems by examining adaptive capacity in hospital teams in six countries. The study will identify how team, organisational and national healthcare system factors support or hinder the ability of teams to adapt to variability and change. Findings from this study are anticipated to provide insights to inform the design of RHC systems by considering how macro-level and meso-level structures support adaptive capacity at the micro-level, and to develop guidance for organisations and policymakers.
METHODS AND ANALYSIS: The study will employ a multiple comparative case study design of teams nested within hospitals, in turn embedded within six countries: Australia, Japan, the Netherlands, Norway, Switzerland and the UK. The design will be based on the Adaptive Teams Framework placing adaptive teams at the centre of the healthcare system with layers of environmental, organisational and system level factors shaping adaptive capacity. In each of the six countries, a focused mapping of the macro-level features of the healthcare system will be undertaken by using documentary sources and interviews with key informants operating at the macro-level.A sampling framework will be developed to select two hospitals in each country to ensure variability based on size, location and teaching status. Four teams will be selected in each hospital-one each of a structural, hybrid, responsive and coordinating team. A total of eight teams will be studied in each country, creating a total sample of 48 teams. Data collection methods will be observations, interviews and document analysis. Within-case analysis will be conducted according to a standardised template using a combination of deductive and inductive qualitative coding, and cross-case analysis will be conducted drawing on the Qualitative Comparative Analysis framework.
ETHICS AND DISSEMINATION: The overall Resilience in Healthcare research programme of which this study is a part has been granted ethical approval by the Norwegian Centre for Research Data (Ref. No. 8643334 and Ref. No. 478838). Ethical approval will also be sought in each country involved in the study according to their respective regulatory procedures. Country-specific reports of study outcomes will be produced for dissemination online. A collection of case study summaries will be made freely available, translated into multiple languages. Brief policy communications will be produced to inform policymakers and regulators about the study results and to facilitate translation into practice. Academic dissemination will occur through publication in journals specialising in health services research. Findings will be presented at academic, policy and practitioner conferences, including the annual RHC Network meeting and other healthcare quality and safety conferences. Presentations at practitioner and academic conferences will include workshops to translate the findings into practice and influence quality and safety programmes internationally.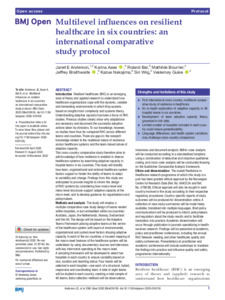 Preview
Text - Published Version
Available under License Creative Commons: Attribution International Public License 4.0.
Download (623kB) | Preview
Export
Downloads
Downloads per month over past year
Altmetric

Altmetric
CORE (COnnecting REpositories)

CORE (COnnecting REpositories)
Actions (login required)

Actions (login required)