What are the experiential and phenomenological processes over time involved in the recovery from violence against women?
Craib, K (2018). What are the experiential and phenomenological processes over time involved in the recovery from violence against women?. (Unpublished Doctoral thesis, City, University of London)
Abstract
This study introduces an epistemological and methodological framework based on the foundations of Interpretative Phenomenological Analysis (Smith 1996), rooted in hermeneutic phenomenology, as a means to disclose the experiential and phenomenological processes over time involved in adult women recovering from violence. It has a relational element where the researcher adopts a dual role of practitioner-researcher, using the key Rogerian (1951) principles of non-judgmental positive regard, empathy, and congruence. This was considered a prerequisite due to the traumatic nature of the experiences the participants had been exposed to, and the aim to explore their recovery processes without causing them further harm.
The existentials described by Van Manen (1997) of lived body, lived time, lived space and lived relations, enables an understanding of the individual experiences, but also an appreciation of the phenomenon of recovery. Bringing recovery from violence into focus in this way, enables a fresh perspective on recovery, and a consideration of how others may respond to this knowledge.
In this study, six adult female participants were purposively selected and invited to share their experiences of their recovery journeys to date. Interviews were carried out weekly for up to six months, but with the option of continuing up to 12 months if the woman chose. Sessions typically came to a natural conclusion when the woman moved on from the refuge.
The participants' accounts provided insights into the embodied experience of recovery, how they experienced time and space, and the significance of relationships, including the research relationship.
The participants moved at their own pace from experiencing the body as threat, to experiencing the body as strength. Some of the processes involved in this included: managing fragmentation and destruction of the self; managing power and control; negotiating negative emotion; creating thinking space; finding positive emotion, and the emergence of positive activities and agentic functioning.
The embodied experience of recovery overlapped with the existentials of lived time, lived, space and lived relations. Trauma was noticed to have a pervasive effect over time; time was experienced as waiting, but also as a need to persevere. There was a move towards taking ownership of time where new beginnings could be made.
Space was experienced as solitary and threatening during the violence, and continuing after the abuse had ceased. Over time, participants were able to enjoy and create a positive space which contributed to positive emotion.
There were perspectives on historical rejecting relationships, including overt rejection, perceived rejection, and absence of relationships, and the negative impact this had on the women's identity. The benefit of supportive and enabling relationships was acknowledged by all participants. The research relationship was experienced positively by all the participants, with two women noting it was their first experience of an enabling relationship. Four women acknowledged a positive change in their sense of identity over time.
Recovery was conceptualised as involving multiple areas, including: a spiritual relationship; facing and accepting the past, and creating a sense of meaning; knowing joy and happiness; engaging in positive friendships, as well as intimate and sexual relations; engaging in meaningful activities; having clear boundaries; being able to manage emotion; feeling safe; and being independent.
Participants unanimously found the research relationship helpful, with an emphasis placed on the researcher being genuine and having depth of understanding, listening, and placing a value on the participant, being caring and taking time, and holding and accepting everything brought to the encounter.
It is suggested that the importance of the spiritual, as well as the nature of the therapeutic relationship, should be given high consideration when engaging with women with similar presentations. This may have clinical significance when considering service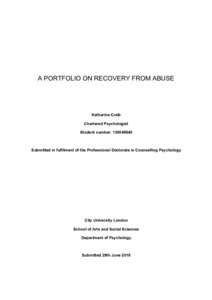 Preview
Text - Accepted Version


Download (1MB) | Preview
Export
Downloads
Downloads per month over past year
Altmetric

Altmetric
CORE (COnnecting REpositories)

CORE (COnnecting REpositories)
Actions (login required)

Actions (login required)