Music performance anxiety as hidden desire and emerging self: the development and exploration of a conceptual lens for performers and practitioners
Lawrence, M. (2019). Music performance anxiety as hidden desire and emerging self: the development and exploration of a conceptual lens for performers and practitioners. (Unpublished Doctoral thesis, Guildhall School of Music and Drama)
Abstract
Music performance anxiety (MPA) is common in musicians performing in the Western classical tradition. Despite being partly beneficial to performance, it is usually conceived as a form of anxiety disorder. The symptoms are extremely varied, and include psychological, behavioural and physiological aspects. However, there is a striking absence of curiosity in the literature about why specific symptoms of MPA occur in an individual. For a performer like myself, and for clients in my performance coaching practice, the
problematic aspect of MPA is that it is experienced as an independent part of the self that prevents musical intentions being fully carried out. This research takes an interdisciplinary approach to investigate how one might simultaneously solve both the theoretical problem of the reasons for particular symptoms and the practical problem of their disruption of musical intentions.
Ideas from psychodynamic psychology and existentialism are used to develop a conceptual lens for MPA that suggests symptoms may be seen as specifically signalling an individual's hidden artistic desires or emergent performing selves. The symptoms might therefore be welcomed as suggesting a reappraisal of the musical intentions they interrupt: that is, they might lead in a new artistic direction for that performer. This gives new possibilities for musicians to deal with MPA, and also for practitioners who work with musicians to address this issue.
This research explores the therapeutic, artistic and professional possibilities of the conceptual lens. It asks in what ways MPA symptoms may signal performance desire and emerging performer-selves, how this may contribute to artistic development, and what coaching and performing practices may emerge from this.
In coaching musicians, the spirit of 'gentle empiricism' is used to observe the effects of applying the conceptual lens. Seven case studies elucidate the successes, failures and the beginnings of the development of a practice for working with musicians who have MPA. In the majority of these cases there seems to be a link between MPA and hidden musical desires or new performing selves, and the possibility of artistic development.
There follows a study of how the conceptual lens can lead to my own artistic development. In experimental performances the nature of my 'MPA-self' is explored and new performances and performance practices are developed using MPA as an expressive tool. These show an emerging desire for expressive improvisation and unconventional performance of classical repertoire. In professional performance a method is developed which can balance the expectations of classical performance with the emergent performing desire signalled by MPA. Here, autoethnographic writing elucidates the resulting emergence of transformative narratives in my artistic and professional journey.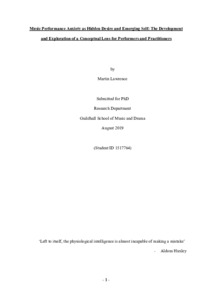 Preview
Text - Accepted Version


Download (6MB) | Preview

Video - Accepted Version
Download (189MB)
Export
Downloads
Downloads per month over past year
Altmetric

Altmetric
CORE (COnnecting REpositories)

CORE (COnnecting REpositories)
Actions (login required)

Actions (login required)