Exploring the impact of clients' disclosures of trauma on psychologists working in the National Health service: a qualitative study
Toumpanakis, Anastasios (2020). Exploring the impact of clients' disclosures of trauma on psychologists working in the National Health service: a qualitative study. (Unpublished Doctoral thesis, City, University of London)
Abstract
Objective: Given the identified gaps and inconsistencies in the literature the current study: (1) uses the conceptualisation of VT to investigate and highlight the potential effects of exposure to clients' traumatic disclosures on psychologists working in the NHS, (2) employs a qualitative methodology for an in-depth exploration of participants' experiences and (3) recruits a relatively homogeneous sample to improve the accuracy and quality of the resultant data.
Methods: Nine qualified psychologists with working experience in the NHS were recruited through snowball sampling and personal networks. Qualitative data was collected using semi-structured interviews. Interviews were audio recorded, transcribed and analysed using Interpretative Phenomenological Analysis (IPA).
Results: Two superordinate themes emerged entitled 'The impact of clients' traumatic disclosures on the psychologist' and 'Dealing with clients' traumatic disclosures in the National Health Service context'. The first superordinate theme produced 4 subordinate themes entitled 'Psychological and physical reactions', 'Questioning belief systems', 'Social and relational impact' and 'Coping mechanisms'. The second superordinate theme produced six subordinate themes entitled 'Job expectations', 'Support systems', 'Caseload', 'Sense of safety', 'Culture influence' and 'Considerations of improving systems'. The participants had experienced vicarious trauma symptoms such as disruptions in their cognitive schemas, nightmares, intrusive thoughts and images, alterations in their sense of safety for themselves and significant others, changes in their worldviews and loss of trust.
Conclusions: The participants reported symptoms that suggest the presence of VT. They mentioned cognitive disruptions and alterations of their beliefs, sense of safety, worldviews, trust towards others, job satisfaction and, sometimes, motivation, among others. In addition, participants reported organisational environment challenges such as heavy caseloads, lack of cultural awareness, decreased sense of safety at work, unmet job expectations, lack of space and time for reflection and a general lack of specialised support within organisations.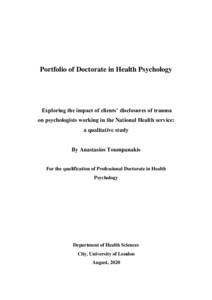 Preview
Text - Draft Version


Download (4MB) | Preview
Export
Downloads
Downloads per month over past year
Altmetric

Altmetric
CORE (COnnecting REpositories)

CORE (COnnecting REpositories)
Actions (login required)

Actions (login required)