Research priorities for Long Covid: refined through an international multi-stakeholder forum
Carson, G. & Long Covid Forum Group (2021). Research priorities for Long Covid: refined through an international multi-stakeholder forum. BMC Medicine, 19(1), 84. doi: 10.1186/s12916-021-01947-0
Abstract
Coronavirus disease 2019 (COVID-19) can lead to a diverse range of clinical manifestations, ranging from an asymptomatic infection to an acute respiratory distress syndrome, and multiorgan failure with high mortality rates [1]. It is established that SARS-CoV-2 not only infects the respiratory tract but that the ensuing viral replication and immune response also affects multiple organ systems, in addition to an acute systemic inflammatory response and in some cases accompanying tissue hypoxia and shock.
While many who have been infected have uncomplicated recoveries, some have prolonged illness. Prolonged course of illness has been reported in adults and children and is affecting both those who were hospitalised with COVID-19 and those who were not [2,3,4,5,6,7].
In December 2020 ISARIC (the International Severe Acute Respiratory and emerging Infection Consortium), the research funders group GloPID-R (The Global Research Collaboration for Infectious Disease Preparedness) and global group, Long Covid Support, jointly organised a 'Long Covid Forum' [8]. This public forum aimed to gain a better understanding of 'Long Covid' and to define research priorities for funders and researchers to take forward.
Publication Type:
Article
Additional Information:
© The Author(s). 2021 Open Access This article is licensed under a Creative Commons Attribution 4.0 International License, which permits use, sharing, adaptation, distribution and reproduction in any medium or format, as long as you give appropriate credit to the original author(s) and the source, provide a link to the Creative Commons licence, and indicate if changes were made. The images or other third party material in this article are included in the article's Creative Commons licence, unless indicated otherwise in a credit line to the material. If material is not included in the article's Creative Commons licence and your intended use is not permitted by statutory regulation or exceeds the permitted use, you will need to obtain permission directly from the copyright holder. To view a copy of this licence, visit http://creativecommons.org/licenses/by/4.0/. The Creative Commons Public Domain Dedication waiver (http://creativecommons.org/publicdomain/zero/1.0/) applies to the data made available in this article, unless otherwise stated in a credit line to the data.
Publisher Keywords:
Long Covid, Coronavirus research, WHO R&D COVID-19 Research Agenda, GloPID-R, ISARIC, Long Covid Support Group
Subjects:
R Medicine > RA Public aspects of medicine
R Medicine > RA Public aspects of medicine > RA0421 Public health. Hygiene. Preventive Medicine
Departments:
School of Health & Psychological Sciences > Healthcare Services Research & Management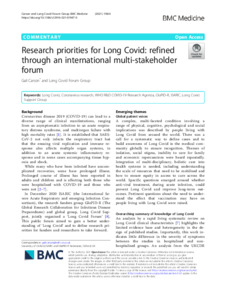 Preview
Text - Published Version
Available under License Creative Commons Attribution.
Download (457kB) | Preview
Export
Downloads
Downloads per month over past year
Altmetric

Altmetric
CORE (COnnecting REpositories)

CORE (COnnecting REpositories)
Actions (login required)

Actions (login required)