Research and development in robotics with potential to automate handling of biological collections
Hardy, H., van Walsum, M., Livermore, L. & Walton, S.

ORCID: 0000-0002-9117-3585 (2020). Research and development in robotics with potential to automate handling of biological collections. Research Ideas and Outcomes, 6, e61366. doi: 10.3897/rio.6.e61366
Abstract
This report investigates the current state of physical (mechanical) robotics, automated warehousing approaches and assistive technologies in relation to the storage, handling and processing (particularly digitisation) of natural history collections.
Robotics can sound futuristic, however we provide case studies that show many and growing examples of physical automation in the natural history and cultural heritage sectors, including barcodes and conveyor belts for digitisation; robots that handle multiple vials for molecular and genetic work; robots for use in in display or exhibition contexts; and automated warehousing of library collections. We provide a non-exhaustive example of an end to end workflow of storage, retrieval and processing and discuss aspects of the tools and challenges relevant to these stages. The Distributed System of Scientific Collections (DiSSCo), a new Research Infrastructure for natural science collections, should build on this, leading a future programme of pilots that develop understanding of independent stages, and can be connected to make progress towards end-to-end solutions.
Robots, or automated systems, excel at repetitive tasks, and are developing rapidly to be able to handle more complex object types, at lower cost. High volume, high variety of objects, and considerations such as fragility are not unique to the natural history sector - they apply for example to major retail operations - however natural history collections do offer some of the more extreme examples of these challenges, and in particular are not replaceable. Increased consistency of storage units is likely to be a critical factor in enabling automated handling in future, as well as looking at automation possibilities when new collections storage spaces are developed and built. Engagement with industry and subject matter experts has been patchy and again we recommend that DiSSCo help to ensure a joined up engagement with the right incentives in place, and with clear communication of requirements and challenges for shared R&D.
When examining return on investment for particular automation, collections-holding institutions need to consider not only time and cost of automation compared to human labour, but wider factors including: health and safety such as physical environment and repetitve strain injury; security; quality and consistency of outputs; degree of criticality in response times (e.g. if digitising on demand); effective use of spaces; and freeing up staff to conduct other tasks.
Purely software-based automation is outside the scope of this report, but is also in increasing use and has enormous potential, for example to transform the extraction of label and specimen data at scale from images. The challenges of managing and digitising collections at scale under DiSSCo are likely to require a combination of hardware and software automation approaches.
Publication Type:
Article
Additional Information:
© Hardy H et al. This is an open access article distributed under the terms of the Creative Commons Attribution License (CC BY 4.0), which permits unrestricted use, distribution, and reproduction in any medium, provided the original author and source are credited.
Publisher Keywords:
Robotics, Automation, Warehousing, Digitisation, Natural History Collections, Natural Science Collections, Research Infrastructure, Health and Safety
Subjects:
H Social Sciences > HN Social history and conditions. Social problems. Social reform
Q Science > QA Mathematics > QA75 Electronic computers. Computer science
Q Science > QH Natural history
R Medicine > RA Public aspects of medicine
Departments:
School of Health & Psychological Sciences > Healthcare Services Research & Management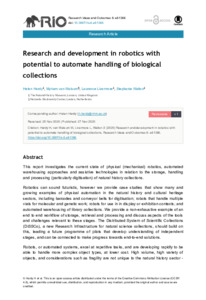 Preview
Text - Published Version
Available under License Creative Commons: Attribution International Public License 4.0.
Download (1MB) | Preview
Export
Downloads
Downloads per month over past year
Altmetric

Altmetric
CORE (COnnecting REpositories)

CORE (COnnecting REpositories)
Actions (login required)

Actions (login required)