Resilience in Healthcare (RiH): a longitudinal research programme protocol
Aase, K., Guise, V., Billett, S. , Sollid, S. J. M., Nja, O., Røise, O., Manser, T., Anderson, J. E.

ORCID: 0000-0002-1452-8370 & Wiig, S. (2020). Resilience in Healthcare (RiH): a longitudinal research programme protocol. BMJ Open, 10(10), e038779. doi: 10.1136/bmjopen-2020-038779
Abstract
INTRODUCTION: Over the past three decades, extensive research has been undertaken to understand the elements of what constitutes high quality in healthcare. Yet, much of this research has been conducted on individual elements and their specific challenges. Hence, goals other than understanding the complex of factors and elements that comprises quality in healthcare have been privileged. This lack of progress has led to the conclusion that existing approaches to research are not able to address the inherent complexity of healthcare systems as characterised by a significant degree of performance variability within and across system levels, and what makes them resilient. A shift is, therefore, necessary in such approaches. Resilience in Healthcare (RiH) adopts an approach comprising a comprehensive research programme that models the capacity of healthcare systems and stakeholders to adapt to changes, variations and/or disruptions: that is, resilience. As such, RiH offers a fresh approach capable of capturing and illuminating the complexity of healthcare and how high-quality care can be understood and advanced.
METHODS AND ANALYSIS: Methodologically, to illuminate what constitutes quality in healthcare, it is necessary to go beyond single-site, case-based studies. Instead, there is a need to engage in multi-site, cross-national studies and engage in long-term multidisciplinary collaboration between national and international researchers interacting with multiple healthcare stakeholders. By adopting such processes, multiple partners and a multidisciplinary orientation, the 5-year RiH research programme aims to confront these challenges and accelerate current understandings about and approaches to researching healthcare quality.The RiH research programme adopts a longitudinal collaborative interactive design to capture and illuminate resilience as part of healthcare quality in different healthcare settings in Norway and in five other countries. It combines a meta-analysis of detailed empirical research in Norway with cross-country comparison from Australia, Japan, Netherlands, Switzerland and the UK. Through establishing an RiH framework, the programme will identify processes with outcomes that aim to capture how high-quality healthcare provisions are achieved. A collaborative learning framework centred on engagement aims to systematically translate research findings into practice through co-construction processes with partners and stakeholders. ETHICS AND
DISSEMINATION: The RiH research programme is approved by the Norwegian Centre for Research Data (No. 864334). The empirical projects selected for inclusion in this longitudinal research programme have been approved by the Norwegian Centre for Research Data or the Regional Committees for Medical and Health Research Ethics. The RiH research programme has an embedded publication and dissemination strategy focusing on the progressive sharing of scientific knowledge, information and results, and on engaging with the public, including relevant patient and stakeholder representatives. The findings will be disseminated through scientific articles, PhD dissertations, presentations at national and international conferences, and through social media, newsletters and the popular media.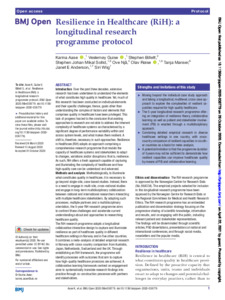 Preview
Text - Published Version
Available under License Creative Commons Attribution Non-commercial.
Download (972kB) | Preview
Export
Downloads
Downloads per month over past year
Altmetric

Altmetric
CORE (COnnecting REpositories)

CORE (COnnecting REpositories)
Actions (login required)

Actions (login required)