Female Narcissism: Assessment, Aetiology, and Behavioural Manifestations
Green, A.

ORCID: 0000-0002-4683-0793, MacLean, R. & Charles, K. (2022). Female Narcissism: Assessment, Aetiology, and Behavioural Manifestations. Psychological Reports, 125(6), pp. 2833-2864. doi: 10.1177/00332941211027322
Abstract
Despite putative gender differences in the expression of narcissism, prominent theories have virtually dismissed the role of females in the development and manifestation of narcissism. The contention that narcissism is a pathology of the self that may partly differ in males and females is further evident in the Diagnostic and Statistical Manual of Mental Disorders (DSM-5). The DSM-5 reports that up to 75% of those diagnosed with Narcissistic Personality Disorder (NPD) are men. Such figures suggest that the representation of narcissism as codified in the DSM-5 may only be marginally applicable to females, given its prominent focus and nature on capturing grandiose themes which closely resemble commonly masculine norms. The overemphasis on grandiose features extends to the empirical literature which defines narcissism as a normative personality trait and is widely assessed using the Narcissistic Personality Inventory (NPI), on which males obtain significantly higher scores than females. As this review will demonstrate, one limitation frequently occurring in the literature is the attempt to comprehend narcissistic manifestations in females through the lens of what has commonly been defined as narcissism (DSM/NPI). In this review, the literature concerning the diagnostic assessment and conceptualisation of narcissistic personality disorder, aetiological factors, aggression, and partner violence perpetration will be discussed in relation to the importance of gender. This is followed by a review of existing gaps in theory and research, and suggestions for fruitful directions that can aid a richer and more meaningful literature on narcissism inclusive of gender issues.
Publication Type:
Article
Additional Information:
This article has been published in Psychological Reports (SAGE), DOI: https://doi.org/10.1177/00332941211027322. This article is distributed under the terms of the Creative Commons Attribution 4.0 License (https://creativecommons.org/licenses/by/4.0/) which permits any use, reproduction and distribution of the work without further permission provided the original work is attributed as specified on the SAGE and Open Access pages (https://us.sagepub.com/en-us/nam/open-access-at-sage).
Publisher Keywords:
Female narcissism, narcissistic personality disorder, assessment, aetiology, aggression, partner violence perpetration
Subjects:
B Philosophy. Psychology. Religion > BF Psychology
H Social Sciences > HQ The family. Marriage. Woman
Departments:
School of Health & Psychological Sciences > Psychology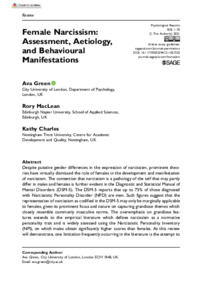 Preview
Text - Published Version
Available under License Creative Commons: Attribution International Public License 4.0.
Download (344kB) | Preview
Export
Downloads
Downloads per month over past year
Altmetric

Altmetric
CORE (COnnecting REpositories)

CORE (COnnecting REpositories)
Actions (login required)

Actions (login required)