When birth is not as expected: a systematic review of the impact of a mismatch between expectations and experiences.
Webb, R.

ORCID: 0000-0002-8862-6491, Ayers, S.

ORCID: 0000-0002-6153-2460, Bogaerts, A. , Jeličić, L., Pawlicka, P., Van Haeken, S., Uddin, N., Xuereb, R. B., Kolesnikova, N. & COST action CA18211:DEVoTION team (2021). When birth is not as expected: a systematic review of the impact of a mismatch between expectations and experiences.. BMC Pregnancy Childbirth, 21(1), 475. doi: 10.1186/s12884-021-03898-z
Abstract
BACKGROUND: Pregnancy and childbirth are significant events in women's lives and most women have expectations or plans for how they hope their labour and birth will go. It is possible that strong expectations about labour and birth lead to dissatisfaction or other negative outcomes if these expectations are not met, but it is not clear if this is the case. The aim was therefore to synthesise prospective studies in order to understand whether unmet birth expectations are associated with adverse outcomes for women, their partners and their infants.
METHOD: Searches were carried out in Academic Search Complete; CINAHL; Medline; PsycINFO, PsychArticles, PubMed, SCOPUS and Web of Science. Forward and backward searches were also completed. Studies were included if they reported prospective empirical research that examined the association between a mismatch in birth expectations/experience and postnatal outcomes in women, their children and/or their partners. Data were synthesised qualitatively using a narrative approach where study characteristics, context and methodological quality were extracted and summarised and then the differences and similarities among studies were used to draw conclusions.
RESULTS: Eleven quantitative studies were identified for inclusion from nine countries. A mismatch between birth expectations and experiences was associated with reduced birth satisfaction. Three studies found a link between a mismatch and the development of postnatal post-traumatic stress disorder (PTSD). The evidence was inconsistent for postnatal depression, and fear of childbirth. Only one study looked at physical outcomes in the form of health-related quality of life.
CONCLUSIONS: A mismatch between birth expectations and experiences is associated with birth satisfaction and it may increase the risk of developing postnatal PTSD. However, it is not clear whether a mismatch is associated with other postnatal mental health conditions. Further prospective research is needed to examine gaps in knowledge and provide standardised methods of measuring childbirth expectations-experiences mismatch. To ensure women's expectations are met, and therefore experience a satisfying birth experience, maternity providers should provide sensitive care, which acknowledges women's needs and preferences, is based on open and clear communication, is delivered as early in pregnancy as possible, and enables women to make their own decisions about care.
TRIAL REGISTRATION: Protocol registration: PROSPERO CRD42020191081 .
Publication Type:
Article
Additional Information:
This article has been published in BMC Pregnancy & Childbirth, doi: https://doi.org/10.1186/s12884-021-03898-z . This article is licensed under a Creative Commons Attribution 4.0 International License, which permits use, sharing, adaptation, distribution and reproduction in any medium or format, as long as you give appropriate credit to the original author(s) and the source, provide a link to the Creative Commons licence, and indicate if changes were made. The images or other third party material in this article are included in the article's Creative Commons licence, unless indicated otherwise in a credit line to the material. If material is not included in the article's Creative Commons licence and your intended use is not permitted by statutory regulation or exceeds the permitted use, you will need to obtain permission directly from the copyright holder. To view a copy of this licence, visit http://creativecommons.org/licenses/by/4.0/
Publisher Keywords:
Birth expectations, Birth experiences, Birth plans, Mismatch, Psychological outcomes, Birth satisfaction
Subjects:
R Medicine > RA Public aspects of medicine
R Medicine > RG Gynecology and obstetrics
Departments:
School of Health & Psychological Sciences > Midwifery & Radiography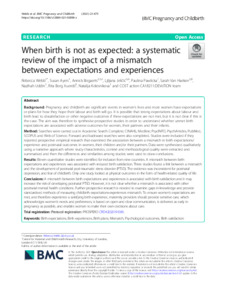 Preview
Text - Published Version
Available under License Creative Commons: Attribution International Public License 4.0.
Download (785kB) | Preview
Export
Downloads
Downloads per month over past year
Altmetric

Altmetric
CORE (COnnecting REpositories)

CORE (COnnecting REpositories)
Actions (login required)

Actions (login required)