Wearable, Environmental, and Smartphone-Based Passive Sensing for Mental Health Monitoring
Sheikh, M., Qassem, M.

ORCID: 0000-0003-0730-3189 & Kyriacou, P. A.

ORCID: 0000-0002-2868-485X (2021). Wearable, Environmental, and Smartphone-Based Passive Sensing for Mental Health Monitoring. Frontiers in Digital Health, 3, 662811. doi: 10.3389/fdgth.2021.662811
Abstract
Collecting and analyzing data from sensors embedded in the context of daily life has been widely employed for the monitoring of mental health. Variations in parameters such as movement, sleep duration, heart rate, electrocardiogram, skin temperature, etc., are often associated with psychiatric disorders. Namely, accelerometer data, microphone, and call logs can be utilized to identify voice features and social activities indicative of depressive symptoms, and physiological factors such as heart rate and skin conductance can be used to detect stress and anxiety disorders. Therefore, a wide range of devices comprising a variety of sensors have been developed to capture these physiological and behavioral data and translate them into phenotypes and states related to mental health. Such systems aim to identify behaviors that are the consequence of an underlying physiological alteration, and hence, the raw sensor data are captured and converted into features that are used to define behavioral markers, often through machine learning. However, due to the complexity of passive data, these relationships are not simple and need to be well-established. Furthermore, parameters such as intrapersonal and interpersonal differences need to be considered when interpreting the data. Altogether, combining practical mobile and wearable systems with the right data analysis algorithms can provide a useful tool for the monitoring and management of mental disorders. The current review aims to comprehensively present and critically discuss all available smartphone-based, wearable, and environmental sensors for detecting such parameters in relation to the treatment and/or management of the most common mental health conditions.
Publication Type:
Article
Additional Information:
Copyright © 2021 Sheikh, Qassem and Kyriacou. This is an open-access article distributed under the terms of the Creative Commons Attribution License (CC BY). The use, distribution or reproduction in other forums is permitted, provided the original author(s) and the copyright owner(s) are credited and that the original publication in this journal is cited, in accordance with accepted academic practice. No use, distribution or reproduction is permitted which does not comply with these terms.
Publisher Keywords:
mental health monitoring, wearables, personal sensing, physiological and behavioral monitoring, digital phenotyping
Subjects:
H Social Sciences > HM Sociology
R Medicine > RC Internal medicine
T Technology
Departments:
School of Science & Technology > Engineering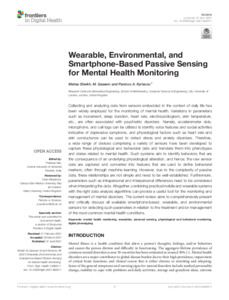 Preview
Text - Published Version
Available under License Creative Commons Attribution.
Download (2MB) | Preview
Export
Downloads
Downloads per month over past year
Altmetric

Altmetric
CORE (COnnecting REpositories)

CORE (COnnecting REpositories)
Actions (login required)

Actions (login required)